Saints For Dummies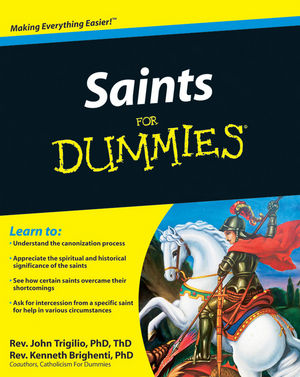 Saints For Dummies
ISBN: 978-0-470-60691-9
Jan 2010
384 pages
Product not available for purchase
Description
An in-depth resource that separates fact from myth about the lives of saints
Saints For Dummies offers information on famous saints (both men and women) from the Eastern Orthodox, Protestant, and Catholic traditions. With a historical biography on each saint including information on what they are known for, what they did in life to achieve sainthood, and how readers can pray to them in time of need. This easy-to-understand guide reveals that most saints were very common, ordinary, and imperfect human beings with faults and foibles who overcame their shortcomings to become figures of great spiritual and historical significance. You get a unique glimpse into the lives and the character traits of these righteous men and women, as well as future pending saints.
Explains which saints are invoked for specific situations
Rev. John Trigilio and Rev. Kenneth Brighenti are the coauthors of Catholicism For Dummies, Women in the Bible For Dummies and John Paul II For Dummies
Whether you're a scholar or just curious about the topic, Saints For Dummies will have you intrigued and informed from the first page.
Introduction.
Part I: In the Beginning.
Chapter 1: Understanding Sainthood.
Chapter 2: Angels and the Blessed Virgin.
Chapter 3: Starting at the Beginning: Apostles and Evangelists.
Part II: Put to the Test.
Chapter 4: Overcoming Weakness.
Chapter 5: Looking at Undecayed Saints (Incorruptibles).
Chapter 6: Holy Martyrs.
Chapter 7: Holy Virgins and Religious Women.
Part III: Living the Faith.
Chapter 8: Leading the Faithful: Saintly Popes.
Chapter 9: Founding Fathers and Mothers.
Chapter 10: Ruling with Sanctity: Saints of Nobility.
Chapter 11: North American Saints.
Chapter 12: American Orthodox Saints.
Part IV: Explaining the Faith.
Chapter 13: Doctors of the Church.
Chapter 14: Saintly Pastors.
Chapter 15: Latin Fathers of the Church.
Chapter 16: Greek Fathers of the Church.
Part V: Living with the Saints.
Chapter 17: Saintly Shrines, Relics, and Pilgrimages.
Chapter 18: Waiting for Their Halos: Saints in the Pipeline.
Part VI: The Part of Tens.
Chapter 19: Ten Favorite Litanies of the Saints.
Chapter 20: Ten Famous Novenas to the Saints.
Chapter 21: Ten Popular Shrines of the Saints.
Chapter 22: Ten Saintly Families.
Part VII: Appendixes.
Appendix A: Helping Hands: A Listing of Patron Saints.
Appendix B: Patron Saints of Countries and Places.
Appendix C: Calendar of Feast Days for the Saints.
Index.