Saldo a favor: Intermediate Spanish for the World of Business, Workbook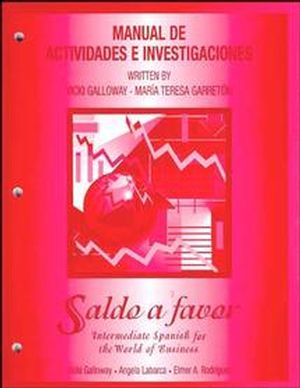 Saldo a favor: Intermediate Spanish for the World of Business, Workbook
ISBN: 978-0-471-00739-5
Apr 1997
304 pages
Product not available for purchase
Description
This practical book focuses on Spanish language composition/conversation and how those skills relate to business communication.
Four-skill Spanish development within the cultural contexts of distinct regions of the Hispanic world.
Solid, consistent, and transferable language development within a true Hispanic context that reflects authentic cultural procedures, protocols, and points of view on aspects of the real world of business.
Previous knowledge of the world of business.
High-interest, contemporary material accompanied by personalized and interactive activities.
Authenticity in its approach to Hispanic business from Hispanic (not U.S.) perspectives.
Practical orientation to business transactions.
Ease of use in its clear explanations and focus on the real world and in its logical development of business-world themes.
Saldo a favor is truly learner-based. Each unit opens by drawing out students' previous experiences using the learner's background and perspective as the point of departure. Individual and group activities are balanced: Some activities require personal reflection, individual assessment of perceptions or preconceptions, expression of opinion; others require group interaction and teamwork in brainstorming, consensus-building, role playing, etc.
Saldo a favor is culturally contextualized and authentic in perspective and practice. It approaches Hispanic business culture from Hispanic (not U.S.) perspectives to promote more in-depth analysis and deeper understanding of other systems of values. Authentic documents represent the core of each thematically focused unit. Hispanic countries are seen in terms of their own complexity - individually and in their relations with each other, with the U.S., and with other countries of the world.
One of the most striking features of Saldo a favor is its careful attention to connected, transferable learning. Within each unit, the three major divisions gradually deepen analysis and application of the unit theme; within each section, the language focus (vocabulary, grammar, writing) and the business culture focus connect and reinforce each other through contextualized presentation and practice. This book recognizes that people forget - especially if they do not consistently use and expand application of previously learned skills and knowledge.