Sales, Marketing, and Continuous Improvement: Six Best Practices to Achieve Revenue Growth and Increase Customer Loyalty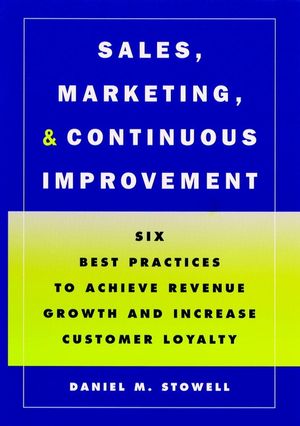 Sales, Marketing, and Continuous Improvement: Six Best Practices to Achieve Revenue Growth and Increase Customer Loyalty
ISBN: 978-0-787-90857-7
Feb 1997, Jossey-Bass
286 pages
Description
Make the most of sales and marketing

Those who have direct responsibility for sales and marketing organizations, as well as those who want more knowledge about the best practices in these critical areas, will gain new and important insights from Dan Stowell's book.
-- Bernard F. Sergesketter, vice president (retired), AT&T

Forget the old-school approach to Sales and Marketing. These six winning practices put those departments back on par with the rest of the modern business world, and opens the door to higher profits.

Based on studies in more than sixty companies -- many of them winners of the prestigious Malcolm Baldridge National Quality Award -- this resource spotlights six reliable, results-generating improvement techniques, and shows how to deploy them successfully in the sales and marketing departments of any organization. The author describes each winning practice in detail, explains how each applies to sales and marketing, and provides illuminating examples of how Texas Instruments, Federal Express, Xerox and many other equally successful but less well known companies have applied the six practices in their organizations. Includes practical guidance for avoiding common pitfalls, along with an action plan for implementation.
1. The Six Best Practices
2. Manage for Change
3. Listen to Customers
4. Focus on Process
5. Use Teams
6. Practice an Open Organization Culture
7. Apply Technology
8. Making it Happen
9. Conclusion
"At last, a comprehensive look at quality in the marketing function that combines both a conceptual perspective and the experience of successful managers. Sales and marketing executives will find reading this book well worth their time." --Joseph L. Orsini, Ph.D., professor of marketing and quality management, California State University, Sacramento

"For companies that look to their sales force for a sustainable competitive advantage and have chosen 'customer intimacy' as their discipline for market leadership -- this book is a must!" --David L. Leffler, senior vice president of sales, Century Furniture Industries

"The actual successes and lessons of senior executives, particularly those in sales or marketing, are well chronicled here. Stowell effectively provides recipes for designing and implementing improvements in the sales and marketing functions which have bottom-line implications far beyond those immediate areas. Enlightenment in readable form. A book you can't put down." --Gail Hunt Reeke, principal, Mogan Stanley Asset Management

"The author covers a vital area in quality management that has been long ignored. Not only those with day-to-day sales and marketing responsibilities but senior corporate management will benefit from reading Stowell's book." --George O. Trabue, past president, World Wide Sales, Eastman Chemical

"Those who have direct responsibility for sales and marketing organizations, as well as those who want more knowledge about best practices in these critical areas, will gain new and important insights from Dan Stowell's book." --Bernard F. Sergesketter, past vice president, Central Region, AT&T, and author of Quality is Personal