Salmon Aquaculture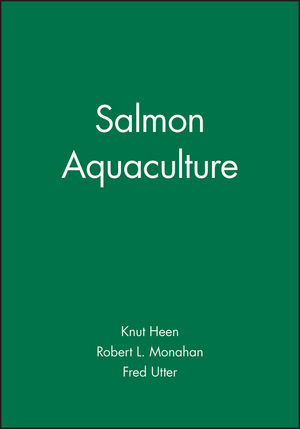 Salmon Aquaculture
ISBN: 978-0-852-38204-2 December 1993 Wiley-Blackwell 288 Pages
Description
Salmon aquaculture is one of the most rapidly developing industries in temperate ocean waters throughout the world. Under the expert guidance of three world authorities, an international team of contributing authors examine the underlying elements which have contributed to the accelerated growth of this industry and the likely consequences upon and for the industry as a whole. This volume carries a wealth of knowledge and practical information on major biological, technical and economic aspects of salmon aqauculture through all stages of activity ranging from broodstock to market.
Contributors.
Acknowledgements.
Preface.
1. An Overview of Salmon Aquaculture. (Robert L. Monahan).
2. The Distribution of Salmon Aquaculture. (Knut Heen, John Thorpe, Neil Ridler, Robert L. Monahan, Conrad Mahnken and Jon Lindbergh).
3. Developments in Salmon Aquaculture Technology. (Ludvig Karlsen).
4. Nutrition, Diet Formulation and Feeding Practices. (Malcolm Jobling).
5. Environmental Considerations (Jeff Wallace).
6. Genetic Effects of Aquaculture on Natural Salmonid Populations. (Fred Utter, Kjetil Hindar and Nils Ryman).
7. Salmon Disease. (Jan A. Olafsen and Ronald J. Roberts).
8. Breeding and Selection. (Bjarne Gjerde).
9. The Regulation of Salmon Aquaculture: an International Overview. (Richard Schwidt with Trond Bjorndal).
10. Comparative Analysis of the Cost Structure and Profitability in the Salmon Aquaculture Industry. (Knut Heen).
11. Salmon Sea Farm Management : Basic Economic Concepts and Applications. (Trond Bjorndal and Russell S. Uhler).
12. Marketing. (Susan A. Shaw.
Index.