Salmon at the Edge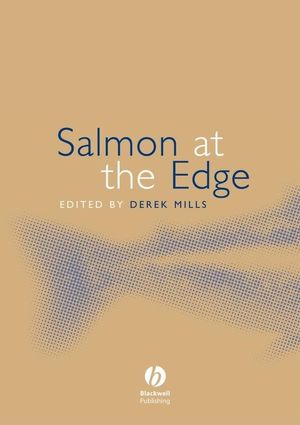 Salmon at the Edge
ISBN: 978-0-470-99548-8 April 2008 Wiley-Blackwell 320 Pages
Description
Salmon at the Edge covers, in depth, the problems faced by wild Atlantic salmon and sea trout in estuaries and coastal zones, and in their early weeks at sea. The book also reflects the current precarious state of many migratory salmonid populations and the need for new approaches to a number of threats to these populations.





Generated from papers given at the landmark Sixth Atlantic Salmon Symposium, held in Edinburgh, UK, Salmon at the Edge contains a huge wealth of information on such important topics as the impact of salmon farming, the behaviour of post-smolts in their early migration and their vulnerability to by-catch, and the use of nutrient enrichment and habitat enhancement to increase production of juvenile salmonids.





With chapters written by internationally-known and respected authors, and including a message of support from His Royal Highness The Prince of Wales, this important volume is essential reading for all those involved with salmonid fishes, including fish biologists, fisheries scientists and managers, environmental, marine and freshwater scientists, and personnel involved in salmon aquaculture. Libraries in all universities and research establishments where these subjects are studied and taught should have copies on their shelves.





The Sixth Atlantic Salmon Symposium, from which chapters in this book have been generated, was organised by The Atlantic Salmon Trust and The Atlantic Salmon Federation, and was published with the financial support of The Fishmongers' Company and Scottish and Southern Energy.


Derek Mills of The Atlantic Salmon Trust, Pitlochry, Perthshire, UK has many years of research, writing and editing experience in salmon biology and fisheries
Preface.
Message from His Royal Highness Prince Charles, the Prince of Wales.
Chapter 1 Opening Address Eroding the edge- the future of coastal waters.
Into the Unknown the First Weeks at Sea.
Chapter 2. Migration and distribution of Atlantic salmon post-smolts in the North Sea and North-east Atlantic.
Chapter 3. Smolt tracking at sea- a search rewarded.
Chapter 4. The ecology of post-smolts of Atlantic Salmon.
Running the Gauntlet - Inshore and Coastal Hazards.
Chapter 5. The significance of marine mammal predation on salmon and sea trout.
Chapter 6. Predation on post-smolt Atlantic salmon by gannets: research implications and opportunities.
Chapter 7. Progress in ending mixed-stock fisheries: United Kingdom.
Chapter 8. Closing the North American mixed-stock commercial fishery for wild Atlantic salmon.
Chapter 9. Assessing and managing the impacts of marine salmon farms on wild Atlantic salmon in western Scotland: identifying priority rivers for conservation.
Chapter 10. The relationship between sea lice infestation, sea lice production and sea trout survival in Ireland, 1922-2001.
Chapter 11. Mortality of seaward migrating post-smolts of Atlantic salmon due to salmon lice infection in Norwegian salmon stocks.
Chapter 12. A two-generation experiment comparing the fitness and life history traits of native, ranched, non-native, farmed and 'hybrid' Atlantic salmon under natural conditions.
Chapter 13. Finding resolution to farmed salmon issues in eastern North America.
Chapter 14. Delivering the solutions- the salmon farmer's point of view.
Beacons of Hope.
Success Stories.
Chapter 15. The return of salmon to cleaner rivers- a Scottish perspective.
Chapter 16. The return of salmon to cleaner rivers- England and Wales.
Chapter 17. Opening up new habitat: Atlantic salmon (Salmo salar L.) enhancement in Newfoundland.
Chapter 18. Optimising wild Salmon production.
Pointers for the Future.
Chapter 19. Stream restoration for anadromous salmonids by the addition of habitat and nutrients.
Chapter 20. Prospects for improved oceanic conditions.
Putting it Together.
Catchment Management.
Chapter 21. The European Water Framework Directive and its implications for catchment management.
Reports and Recommendations.
The Way Ahead.
Index.
"!!!!! Must Read."
PNS (Public News Service) Publishing 500
"[Salmon at the Edge] discusses the problems faced by wild Atlantic salmon (Salmo salar) and sea trout (S. trutta) in estuaries and coastal regions and in their early weeks of life at sea. Also discussed is the impact of salmon farming, the behaviour of post-smolts during early mogration and their vulnerability to by-catch, and the use of nutrient enrichment and habitat enhancement to increase production of juvenile salmonids."
CABI Abstracts

"I would recommend this book to anyone with an interest in Atlantic salmon and I agree with the publisher's assessment on the back cover that it is "essential reading" for students and professionals involved with research or management of salmonid fishes or with salmon aquaculture."
Hydrobiologia

"I would recommend this book to anyone with an interest in Atlantic salmon and I agree with the publishers assessment... it is 'essential reading.'"
Seafood International
* contains much new information of vital interest to salmonid researchers
* Edited by Derek Mills, well respected for his previous publications
* supported by the Atlantic Salmon Trust