Saltwater Aquariums For Dummies, 2nd Edition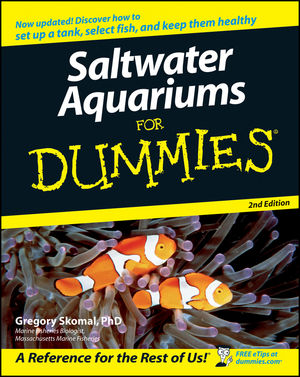 Saltwater Aquariums For Dummies, 2nd Edition
ISBN: 978-1-118-05102-3 February 2011 368 Pages
Description
Demystifies aquarium setup and maintenance
Combine and care for a wide variety of marine fish and invertebrates
Dive into the colorful world of saltwater fish! This fun, friendly guide gives you easy step-by-step instructions for choosing and caring for these amazing animals. You get the latest on feeding, tank upkeep, filtering systems, maintaining live rock, and preventing algae build-up, as well as what not to include in your aquarium.
Discover how to
Choose the best fish and equipment
Get your tank up and running
Maintain proper water conditions
Keep your fish happy and healthy
Avoid tank pitfalls
Keep a brackish aquarium
Introduction.
Part I: Getting to Know Your Fish and Invertebrates.
Chapter 1: Your First Salty Steps.
Chapter 2: Some Things Fishy.
Chapter 3: Choosing the Best Fish for You.
Chapter 4: About Invertebrates.
Chapter 5: From the Dealer to Your Home.
Part II: Setting Up Your Aquarium.
Chapter 6: Choosing the Best Aquarium.
Chapter 7: Figuring Out Filters.
Chapter 8: Heating and Lighting Your Aquarium.
Chapter 9: Fishy Furnishings and Finishing Touches.
Chapter 10: Partial to Salt: The Brackish Aquarium.
Chapter 11: Getting Your Aquarium Up and Running.
Part III: Taking Proper Care of Your Aquarium.
Chapter 12: The Nitrogen Cycle.
Chapter 13: More Chemistry: Salt, Acidity, and Gases.
Chapter 14: All About Algae.
Chapter 15: Keeping Your Aquarium Clean.
Part IV: Taking Proper Care of Your Fish.
Chapter 16: Feeding Your Fish.
Chapter 17: Preventing Stress.
Chapter 18: Diseases and Treatments.
Chapter 19: Observing Your Fish.
Part V: The Part of Tens.
Chapter 20: Ten Fish to Avoid.
Chapter 21: Ten Invertebrates to Avoid.
Chapter 22: Five Simple Metric Conversions.
Chapter 23: Ten Great Public Saltwater Aquariums.
Part VI: Appendixes.
Appendix A: Resources.
Appendix B: Glossary.
Index.