Sample Design in Business Research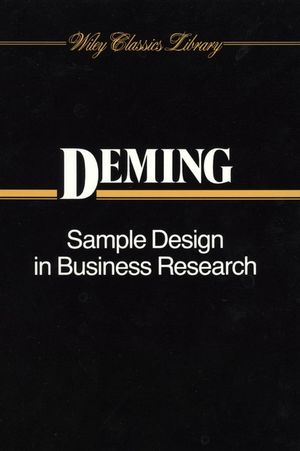 Sample Design in Business Research
ISBN: 978-0-471-52370-3 January 1990 544 Pages
Description
Sets forth the theory and practice of sampling designs and presents methods for sampling. This classic also provides standards of professional statistical practice and discusses concepts and operational definitions.
Table of contents
Responsibilities in Planning a Survey.

Some Remarks on the Theory of Sampling.

The Frame and Elements of a Sampling Plan.

Operational Definitions of Expected Value and of StandardError.

Uncertainties Not Attributable to Sampling.

Some Simple Replicated Designs.

A Survey of Business Establishments with Correction forNonresponse.

Examples in Sampling Accounts.

Evaluation of Inventory of Materials.

Exercise in a Replicated Survey of a Small Urban Area.

General Theory and Procedure for Replicated Sampling of a LargeArea.

Field Procedure for the Creation of Segments and for the Selectionof People Within Families.

A Statistical Aid to Supervision.

Sampling New Material.

Stratified Sampling.

Evaluation of Expected Value and of Bias in SamplingProcedures.

Theory of Variances.

The Poisson Series and the Square-Root Transformation.

Optimum Number of Segments Per Block.

Theory for the Formation of Strata.

Choice of Zoning Interval and Number of Subsamples.

Index.