Sample Survey Methods and Theory, Volume 2: Theory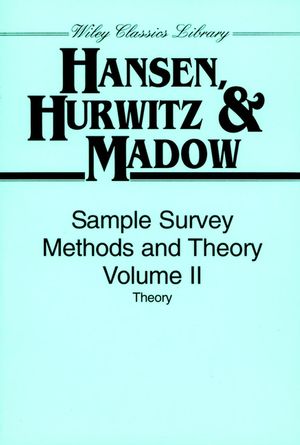 Sample Survey Methods and Theory, Volume 2: Theory
ISBN: 978-0-471-30966-6 August 1993 352 Pages
Description
A general purpose work on sampling method and theory. Volume 1 gives a simple, non-mathematical discussion of principles and their practical applications. Volume 2 covers theory and proofs.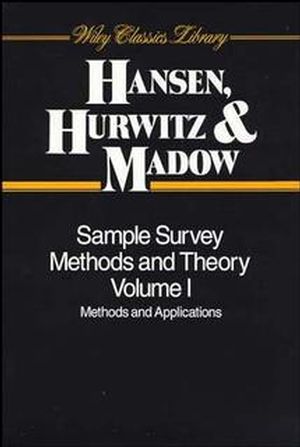 Buy Set of 2 Items
This item: Sample Survey Methods and Theory, Volume 2: Theory
Original Price:$364.00
Purchased Together:$298.00
save $66.00
Cannot be combined with any other offers.
Original Price:$364.00
Purchased together:$273.00
save $91.00
Table of contents
FUNDAMENTAL THEORY.

Operations, Events and Probability.

Random Variables, Expected Values, Variances, Covariances, andConvergence in Probability.

DERIVATIONS, PROOFS, AND SOME EXTENSIONS OF THEORY FORCORRESPONDING CHAPTERS OF VOLUME 1.

Simple Random Sampling.

Stratified Simple Random Sampling.

Simple One- or More Stage Cluster Sampling.

Stratified Single- or Multi-Stage Cluster Sampling.

Control of Variation in Size of Cluster in Estimating Totals,Averages, or Ratios.

Multi-Stage Sampling with Large Primary Sampling Units.

Estimating Variances.

Regression Estimates, Double Sampling, Sampling for Time Series,and Other Sampling Methods.

A THEORY FOR RESPONSE ERRIRS.

Response Errors in Surveys.

Index.