Sampling Inspection Tables: Single and Double Sampling, 2nd Revised and Expanded Edition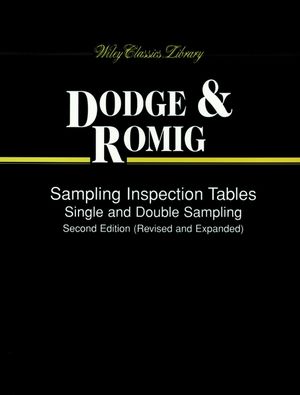 Sampling Inspection Tables: Single and Double Sampling, 2nd Revised and Expanded Edition
ISBN: 978-0-471-25549-9
Feb 1998
240 pages
Description
The sampling inspection tables presented in this book were developed for use in the manufacture of communication apparatus and equipment for the Bell Telephone System. It assembles under one cover the three papers of original publication and adds a brief introduction. The papers have been reproduced with no modifications but the material has been rearranged in chapters. Chapter 1 outlines some of the factors to be considered in setting up inspection plans and develops a basis for minimizing the amount of inspection. Chapter 2 covers double sampling, the "average outgoing quality limit" (AOQL) concept, and the mathematical background of the tables. Chapter 3 is a reproduction by permission, which outlines the shop procedures for applying the tables.
A Method of Sampling Inspection.

Single Sampling and Double Sampling Inspection Tables.

Using Double Sampling Inspection in a Manufacturing Plant.

Operating Characteristics of Sampling Plans.

Appendices.

Index.