Sampling for Analytical Purposes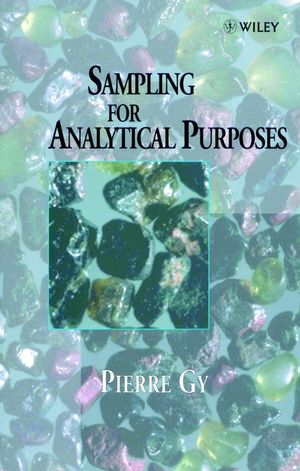 Sampling for Analytical Purposes
ISBN: 978-0-470-86038-0 November 2000 172 Pages
Description
Dr Gy, a pioneer in every sense of the word, has spent 50 years studying the best way to take a truly representative sample. His greatest achievement perhaps has been to introduce science into the black art of sampling. The now famous and widely used formula bearing his name means that sampling is no longer a lottery but an essential analytical tool. This very readable and practical book, written by Pierre Gy himself, is the first simple guide to Pierre Gy s method to be translated into English. Although Dr Gy s formula was originally developed for the sampling of solid material in mines, etc., the theoretical arguments are equally valid for the sampling of liquids and multi-phase media. This book is as interesting as a historical perspective as it is useful for the practising modern day analyst.
Table of contents
THE QUALITATIVE APPROACH: ACHIEVING ACCURACY IN SAMPLING.
How Can the Mass of a Lot L be Reduced?
Heterogeneity and Sampling.
Sampling Definitions.
Objects in Three, Two, One or Zero Dimension(s).
The Practical Sampling of Moving Streams of Material.
Conclusions on the Qualitative Approach.
THE QUANTITATIVE APPROACH: TAKING REPRODUCIBLE SAMPLES FROM APOPULATION OF NON-ORDERED OBJECTS.
The Heterogeneity of a Population.
Sampling: The Zero-Dimensional Model: The Fundamental Error FE.
Sampling: The Zero-Dimensional Model: The Segregation and GroupingError SGE.
THE QUANTITATIVE APPROACH: ENSURING THE REPRODUCIBILITY OF SAMPLESTAKEN FROM A SERIS OF CHRONOLOGICALLY ORDERED OBJECTS.
Heterogeneity: The One-Dimensional Model.
Sampling: The One-Dimensional Model.
THE QUANTITATIVE APPROACH: OTHER APPLICATIONS OF SAMPLING THEORY.
Measurement of Mass by Proportional Sampling.
Appendices.
References.
Index.
Reviews
"This text is strongly recommended to those who oversee orare involved in sample quality control in moving stream industrialsettings. This text will also find utility for studentsstudying sampling methods in advanced analytical chemistrycourses." (J. Am. Chem. Soc., 1999)