Samsung Galaxy Tab For Dummies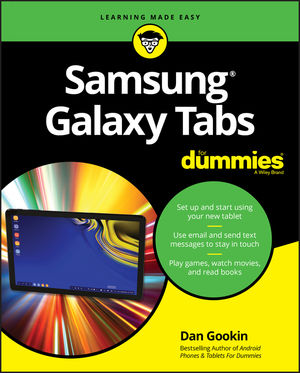 Samsung Galaxy Tab For Dummies
ISBN: 978-1-119-46658-1
May 2018
320 pages
Product not available for purchase
Description
Welcome to the Galaxy
This book is for people who want to get the most from the latest in tablet technology. Tablets are not a computer, and they are much more than a smartphone. The Galaxy Tab devices take the technology one step further. Beyond the basics of tablet computing offered by competitors – Web, Email, eReader, Navigation, Music, Video, Camera– the Galaxy Tab tablets offer a variety of features, the Android operating system and aggressive pricing, making them formidable contenders to other devices.
This book documents the features of the Galaxy Tabs, approaching them from the point of view of a smart person who is intimidated by the technology and baffled by the scant documentation and online support. All topics for Galaxy Tabs will be covered. The reader will keep this book close, referring to it often as they explore the many new and exciting features of their Samsung Galaxy Tab.
With the portability of a smartphone plus many of the functions of a computer, tablets are popular devices for both work and play. If you're new to Android tablets or simply want to learn more about their many features, Samsung Galaxy Tab For Dummies is here to help.
You'll learn all the basics:
Get acquainted with your tablet
Jump right into surfing the web
Read books
Stay connected with friends and family.
Listen to music
Access social media sites
Take pictures and record videos
Make phone calls
Download your favorite apps