Sarbanes-Oxley and the New Internal Auditing Rules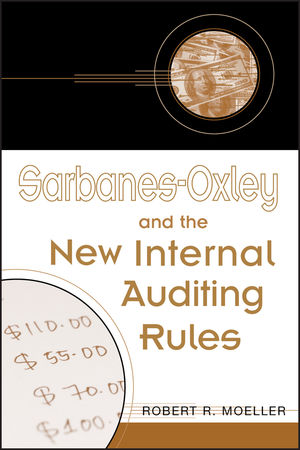 Sarbanes-Oxley and the New Internal Auditing Rules
ISBN: 978-0-471-64673-0
May 2004
336 pages
Description
Sarbanes-Oxley and the New Internal Auditing Rules thoroughly and clearly explains the Sarbanes-Oxley Act, how it impacts auditors, and how internal auditing can help with its requirements, such as launching an ethics and whistle-blower program or performing effective internal controls reviews under the COSO framework. With ample coverage of emerging rules that have yet to be issued and other matters subject to change, this book outlines fundamental blueprints of the new rules, technological developments, and evolving trends that impact internal audit professionals.

Order your copy today!
Preface.
Chapter 1: Introduction.
Accounting and Auditing Scandals and Internal Audit.
What Are the New Rules?
Who Will Find this Book Useful?
Chapter 2: Internal Audit and the Sarbanes-Oxley Act.
"Where Were the Auditors?" Standards Failure.
Sarbanes-Oxley Overview: Key Internal Audit Concerns.
Impact of the Sarbanes-Oxley Act on the Modern Internal Auditor.
Chapter 3: Heightened Responsibilities for Audit Committees.
Audit Committee Charters and Other Requirements.
Board's "Financial Expert" and Internal Audit.
Helping to Establish Documentation Procedures.
Controlling Other Audit Services.
Establishing Open Communications.
Chapter 4: Launching an Ethics and Whistleblower Program.
Launching an Organization Ethics Program.
Establishing a Mission or Values Statement.
Codes of Conduct.
Whistleblower and Hotline Functions.
Auditing the Organization's Ethics Functions.
Chapter 5: COSO, S ection 404, and Control Self-Assessments.
SOA Section 404.
COSO Internal Control Framework.
Violation Penalties: Organizational Sentencing Guidelines.
Control Self-Assessments.
Chapter 6: IIA, CobiT, and Other Professional Internal Audit Standards.
Institute of Internal Auditors Standards for Professional Practice.
CobiT and Information Technology Governance.
ASQ Audit Standards: A Different Approach.
Chapter 7: Disaster Recovery and Continuity Planning after 9/11.
Business Continuity Planning and the New Language of Recovery Planning.
Continuity Planning and Service-Level Agreements.
New Technologies: Critical Data Mirroring Techniques.
Establishing Effective Contingency Policies: What Are We Protecting?
Building the Disaster Planning Business Continuity Plan.
Testing, Maintaining, and Auditing the Continuity Plan.
Continuity Planning Going Forward.
Chapter 8: Internal Audit Fraud Detection and Prevention.
Red Flags: Fraud Detection for Auditors.
Public Accounting's New Role in Fraud Detection.
IIA Standards for Detecting and Investigating Fraud.
Fraud Investigations for Internal Auditors.
Information Systems Fraud Prevention Processes.
Chapter 9: Enterprise Risk Management, Privacy, and Other Legislative Initiatives.
Enterprise Risk Management.
Concurrent with SOA: Other Legislation Impacting Internal Auditors.
Chapter 10: Rules and Procedures for Internal Auditors Worldwide.
SOA International Requirements.
International Accounting and Auditing Standards.
COSO Worldwide: International Internal Control Frameworks.
ISO and the Standards Registration Process.
ITIL Service Support and Service Delivery Best Practices.
Chapter 11: Continuous Assurance Auditing Future Directions.
Implementing Continuous Assurance Auditing.
Internet-Based Extensible Mark-Up Languages: XBRL.
Data Warehouses, Data Mining, and OLAP.
Newer Technologies, the Continuous Close, and SOA.
Chapter 12: Summary: Internal Auditing Going Forward.
Future Prospects for Internal Auditors.
Glossary.
Index.