Satellite Communications, 2nd Edition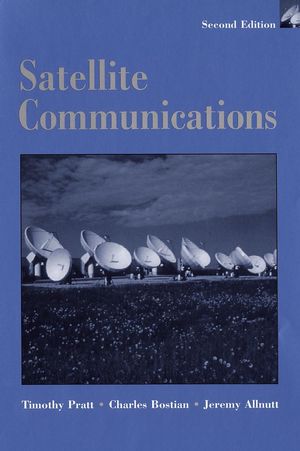 Satellite Communications, 2nd Edition
ISBN: 978-0-471-37007-9 October 2002 560 Pages
Description
First published in 1986, Satellite Communications is unique in focusing on the principles behind satellite communication systems rather than the encyclopedic range of specific systems. Continued in the completely updated Second Edition, this approach allows students to fully master the concepts that govern how a satellite communication system transfers information. In the Second Edition, a new author, Jeremy Allnut, has joined the team, four new chapters have been added covering important new topics, and many more worked examples are included.
Table of contents
Preface.

Introduction.

Orbital Mechanics and Launchers.

Satellites.

Satellite Link Design.

Modulation and Multiplexing Techniques for Satellite Links.

Multiple Access.

Error Control for Digital Satellite Links.

Propagation Effects and their Impact on Satellite-Earth Links.

VSAT SYSTEMS.

Low Earth Orbit and Non-Geostationary Satellite Systems.

Direct Broadcast Satellite Television and Radio.

Satellite Navigation and the Global Positioning System.

Appendix A: Decibels in Communications Engineering.

Appendix B: FDM/FM/FDMA Analog Telephone Transmission.

Appendix C: Complementary Error Function erfc(x) and Q Function Q(z).

Appendix D: The Simple Attenuation Model.

Glossary.

Index.
New To This Edition
Up-to-date material on the latest applications of satellite systems: The Second Edition covers the most current technology, with new chapters on VSAT networks, the Global Positioning System, Direct Broadcast Satellite Television, and Low Earth Orbit systems.
More worked examples: Every chapter includes multiple worked examples, so students can study exactly how analysis is carried out.
Emphasis on digital transmission techniques: All chapters have been revised in order to focus on modern digital transmission techniques, and the basic theory of digital transmission is thoroughly reviewed.
What's New
A new revision of the best-selling text: The First Edition of Satellite Communications has been a popular choice for schools and is a standard reference work in the industry.
Focus on the basic theory of satellite communications systems: The well-received approach of the First Edition-teaching basic concepts and then applying them to specific systems-is carried over to the Second Edition.
Real-life problems: The practice problems in each chapter have been chosen carefully for their relevance and are based on real satellite systems.