Save Big: Cut Your Top 5 Costs and Save Thousands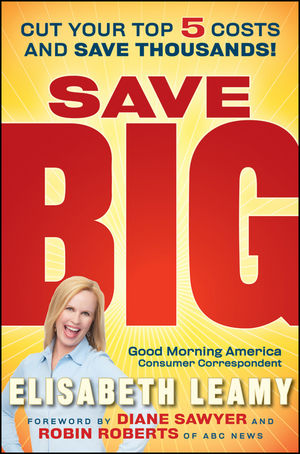 Save Big: Cut Your Top 5 Costs and Save Thousands
ISBN: 978-0-470-55421-0 December 2009 352 Pages
Description
Good Morning America correspondent and ABC News columnist reveals tips for achieving unbelievable savings

In this battered economy, saving money matters more to consumers than ever before. But most people are tired of hearing about all the small stuff, like skipping their morning latte. They tried that, and it didn't work. Americans want fresh, bold ideas and Save Big: Cut Your Top 5 Costs and Save Thousands has them. In fresh, engaging prose, Elisabeth Leamy shows consumers how to save big on life's most important and costly items. Filled with actionable advice and the insider secrets readers are hungering for, Save Big

Details how to save a lot of money on a few things rather than merely saving a little on a bunch of small items
Reveals the keys to saving money and the challenges consumers face
Educates consumers on how to save thousands on the five things most people spend the most money on: houses, cars, credit, groceries, and healthcare
After the turbulent economic events of the recent past, more and more consumers are focusing on budgeting and creative ways to save money. Save Big can help.
Foreword.
Acknowledgments.
Introduction.
PART I Houses: Home of Savings.
CHAPTER 1: Buy a House ASAP.
CHAPTER 2: How Much Should You Spend?
CHAPTER 3: Doing the Deal.
CHAPTER 4: Getting a Good Mortgage.
CHAPTER 5: Choosing a Mortgage Professional.
CHAPTER 6: Cut Your Closing Costs.
CHAPTER 7: Appeal Your Property Taxes.
CHAPTER 8: When to Refinance.
CHAPTER 9: Pay Off Your Mortgage Early.
CHAPTER 10: Sell Your House Yourself.
PART II Cars: The Cheaper Road.
CHAPTER 11: What to Buy.
CHAPTER 12: What Can You Afford?
CHAPTER 13: Where to Buy a Car.
CHAPTER 14: Choosing a Reliable Car.
CHAPTER 15: Bargaining for the Best Price.
CHAPTER 16: Make Your Car Last.
CHAPTER 17: Car Insurance for Less.
PART III Credit: Loans for Less.
CHAPTER 18: Protecting Your Credit Reports.
CHAPTER 19: Understanding Your Credit Score.
CHAPTER 20: Raising Your Credit Score.
CHAPTER 21: Cut Credit Card Debt.
PART IV Groceries: Guerilla Grocery Shopping.
CHAPTER 22: Price Matching.
CHAPTER 23: Stockpiling.
CHAPTER 24: Creative Couponing.
CHAPTER 25: Wild Cards.
PART V Healthcare: Curing High Costs.
CHAPTER 26: Choosing a Health Insurance Plan.
CHAPTER 27: Negotiating with Your Doctor.
CHAPTER 28: Picking Your Prescriptions.
CHAPTER 29: Haggling with Hospitals.
Conclusion.
Index.
Elisabeth Leamy's
Save Big: Cut Your Top 5 Costs and Save Thousands
is invaluable because it focuses on big expenses, including mortgages, cars and insurance, and makes each step understandable."
—Gail MarksJarvis, Chicago Tribune, December 2009
"Advice is practical, clearly explained and, best of all, does not require daily maintenance or routine deprivation. … Even if readers choose only one or two tips from the hundreds offered, Save BIG should live up to its tantalizing title – and you can read it over your latte."
—Joanna Brichetto, BookPage, January 2010
 "Save BIG is a tremendous source of savings for you, the consumer. I learned many things from reading this book on how to save BIG rather than save small. I highly recommend this book to anyone who is looking to save thousands or possibly millions in a lifetime by just some simple adjustments to what you do."
— Sheri Newton, Associated Content, www.associatedcontent.com January 2010