Saving the Corporate Soul--and (Who Knows?) Maybe Your Own: Eight Principles for Creating and Preserving Integrity and Profitability Without Selling Out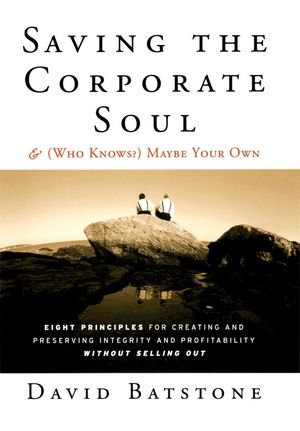 Saving the Corporate Soul--and (Who Knows?) Maybe Your Own: Eight Principles for Creating and Preserving Integrity and Profitability Without Selling Out
ISBN: 978-1-118-04405-6
Mar 2003, Jossey-Bass
288 pages
Description
Every day the media reports on the latest corporation guilty of financial misconduct and public deception. Insider trading, fraudulent accounting, outlandish executive pay and perks-- a steady stream of scandals scars the business landscape. But the corporate crisis is as much spiritual as it is financial. More than ever, the time is ripe for Saving the Corporate Soul. In this hard-hitting, thought-provoking book, David Batstone shows that a corporation has the potential to act with soul when it aligns its missions with the values of its workers and puts its resources at the service of the people it employs and the public it serves. He offers companies and their employees eight sound principles for "doing the right thing" and-- citing examples from firms like Timberland, General Motors, Clif Bar, and BP-- offers evidence that principled companies will excel financially over the long haul.
Introduction: Values Make the Company.
Chapter 1: Leadership and Governance.
The directors and executives of a company will align their personal interests with the fate of stakeholders and act in a responsible way to ensure the viability of the enterprise.
Chapter 2: Transparency and Integrity.
A company's business operations will be transparent to shareholders, employees, and the public, and its executives will stand by the integrity of their decisions.
Chapter 3: Community.
A company will think of itself as part of a community as well as a market.
Chapter 4: Customer Care.
A company will represent its products honestly to customers and honor their dignity up to and beyond a transaction.
Chapter 5: Valuing the Worker.
The worker will be treated as a valuable team member, not just a hired hand.
Chapter 6: Respect for the Environment.
The environment will be treated as a silent stakeholder, a party to which the company is wholly accountable.
Chapter 7: Equality and Diversity.
A company will strive for balance, diversity, and equality in its relationships with workers, customers, and suppliers.
Chapter 8: Globalization.
A company will pursue international trade and production based on respect for the rights of workers and citizens of trade partner nations.
Conclusion: From Success to Significance.
Notes.
Acknowledgments.
The Author.
Index.