Scandinavian Perspectives on the Evaluator's Role in Informing Social Policy: New Directions for Evaluation, Number 77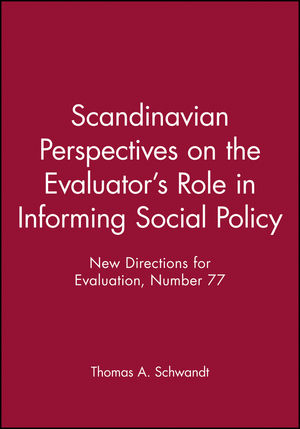 Scandinavian Perspectives on the Evaluator's Role in Informing Social Policy: New Directions for Evaluation, Number 77
ISBN: 978-0-787-99847-9
Apr 1998, Jossey-Bass
93 pages
Description
Evaluation practice, like any social practice, is socioculturally and historically determined. Understandings of the practice differ from country to country, depending on institutional arrangements, intellectual traditions, and political practices. The chapters in this volume provide many insights into how Scandinavians understand evaluation practice. Of course, there is no single Scandinavian perspective on evaluation any more than there is a single American perspective on the topic. Yet it is undeniable that evaluation theory and practice in Norway, Sweden, and Denmark unfold against a set of sociocultural circumstances and intellectual influences that differ in many important respects from those in the United States. This difference is often summed up by the sweeping characterization of Scandinavian countries as exemplars of the social democratic welfare state. That label tells us very little, however. The chapters in this volume explore the theory of evaluation practice in the context of the Scandinavian view of certain issues as problems in society, rather than problems in individuals. They also locate ideas about evaluation practice's role and authority in the Scandinavian debate on reforms aimed at decentralizing, modernizing, and deregulating the welfare state. This is the 77th issue of the quarterly journalNew Directions for Evaluation.
1. Linking Evaluation and Reform Strategies (Peder Haug).
2. Socratic Dialogue in the Swedish Political Context (Ove Karlsson).
3. Evaluation as a Strategy of Modernization (Linda Andersen).
4. Evaluation Research and Sociology in Denmark: A Tale of Two Cultures (Finn Hansson).
5. Evaluation of Industrial Development in Norway (Hans Torvatn).