Scenario-Based Training with X-Plane and Microsoft Flight Simulator: Using PC-Based Flight Simulations Based on FAA-Industry Training Standards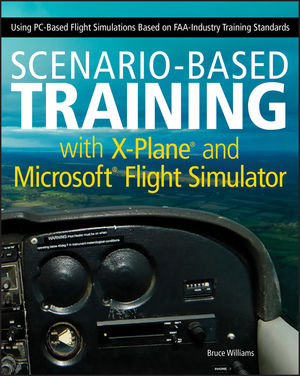 Scenario-Based Training with X-Plane and Microsoft Flight Simulator: Using PC-Based Flight Simulations Based on FAA-Industry Training Standards
ISBN: 978-1-118-10502-3 January 2012 624 Pages
Description
Fly toward pilot certification with these real-world scenario exercises
Although PC-based flight simulations have been available for 30 years, many pilots, instructors, and flight schools don't understand how best to use these tools in real-world flight training and pilot proficiency programs. This invaluable reference bridges the gap between simulation tools and real-world situations by presenting hands-on, scenario-based exercises and training tips for the private pilot certificate and instrument rating. As the first of its kind based on FAA-Industry Training Standards (FITS), this book steers its focus on a scenario-based curriculum that emphasizes real-world situations.
Experienced pilot and author Bruce Williams ultimately aims to engage the pilot, reinforce the "realistic" selling point of PC-based flight simulations, while also complementing the FAA-approved FITS syllabi.
Serves as essential reading for pilots who want to make effective use of simulation in their training while expanding their skill level and enjoyment of flying
Covers private pilot real-world scenarios and instrument rating scenarios
Includes a guide to recommended websites and other resources
Features helpful charts as well as a glossary
You'll take off towards pilot certification with this invaluable book by your side.
Table of contents
Introduction xxxiii
Part I Before You Take Off 1
Chapter 1 What You Need to Use This Book 3
Chapter 2 Essential Resources on the Website 15
Chapter 3 Using PC-Based Simulations Effectively 25
Chapter 4 Scenario-Based Training for Virtual Aviators 41
Chapter 5 Choosing a PC-Based Simulation: X-Plane or FSX? 45
Chapter 6 A Quick Guide to X-Plane 55
Chapter 7 A Quick Guide to Microsoft Flight Simulator X 69
Part II Getting the Most from X-Plane and FSX 87
Chapter 8 Beyond the Basics: Additional Advice about Using Simulations Effectively 89
Chapter 9 Scenario-Based Training and FITS 99
Chapter 10 Using the Scenarios in This Book 109
Part III Flying Fundamentals 117
Chapter 11 Flying Fundamentals 119
Chapter 12 Flying the Cessna 172 Skyhawk 139
Part IV Private Pilot Scenarios 169
Chapter 13 Introduction to the Private Pilot Syllabus 171
Chapter 14 Private Pilot Lesson 1: Introductory Flight 179
Chapter 15 Private Pilot Lesson 2: Fundamental Flight Maneuvers 187
Chapter 16 Private Pilot Lesson 3: Ground Reference Maneuvers 195
Chapter 17 Private Pilot Lesson 4: A Short Cross-Country Flight 203
Chapter 18 Private Pilot Lesson 5: Another Short Cross- Country Flight 209
Chapter 19 Private Pilot Lesson 6: A Trip to a Fly-In Breakfast 217
Chapter 20 Private Pilot Lesson 7: Ground Reference Maneuvers 223
Chapter 21 Private Pilot Lesson 8: Evening Flight 229
Chapter 22 Private Pilot Lesson 9: Charity Flight 235
Chapter 23 Private Pilot Lesson 10: Crosswind Landings 241
Chapter 24 Private Pilot Lesson 11: Preparation for Solo Flight 247
Chapter 25 Private Pilot Lesson 12: First Solo Flight 253
Chapter 26 Private Pilot Lesson 13: Review of Basic Maneuvers 259
Chapter 27 Private Pilot Lesson 14: Progress Assessment: Stage Check 265
Chapter 28 Private Pilot Lesson 15: Soft-Field Landings 271
Chapter 29 Private Pilot Lesson 16: VOR Navigation 277
Chapter 30 Private Pilot Lesson 17: Maximum Performance Takeoffs and Landings 285
Chapter 31 Private Pilot Lesson 18: Flight in Marginal Weather 293
Chapter 32 Private Pilot Lesson 19: Solo Practice Flight 299
Chapter 33 Private Pilot Lesson 20: Long Cross-Country Flight 305
Chapter 34 Private Pilot Lesson 21: Cross-Country Night Flight 311
Chapter 35 Private Pilot Lesson 22: Flight Planning and Navigation Practice 317
Chapter 36 Private Pilot Lesson 23: Night Cross-Country Flight 325
Chapter 37 Private Pilot Lesson 24: Night Freight Run 331
Chapter 38 Private Pilot Lesson 25: Cross-Country Flight in Marginal VFR 337
Chapter 39 Private Pilot Lesson 26: Cross-Country Flight: Progress Check 343
Chapter 40 Private Pilot Lesson 27: Long Solo Cross-Country Flight 349
Chapter 41 Private Pilot Lesson 28: Preparation for the Practical Test 355
Chapter 42 Private Pilot Lesson 29: Further Preparation for the Practical Test 361
Chapter 43 Private Pilot Lesson 30: The Private Pilot Practical Test 367
Part V Instrument Rating Scenarios 373
Chapter 44 Introduction to the Instrument Rating Syllabus: Background and Resources for IFR Lessons 375
Chapter 45 IFR Lesson 1: Basic Attitude Instrument Flying 385
Chapter 46 IFR Lesson 2: Basic Attitude Instrument Flying 395
Chapter 47 IFR Lesson 3: Partial-Panel Flight 401
Chapter 48 IFR Lesson 4: Partial- Panel Instrument Flight 407
Chapter 49 IFR Lesson 5: Holding Procedures 413
Chapter 50 IFR Lesson 6: Non- Precision Approach 419
Chapter 51 IFR Lesson 7: IFR Departures and Localizer Approach 427
Chapter 52 IFR Lesson 8: ILS Approach 437
Chapter 53 IFR Lesson 9: IFR Cross-Country 445
Chapter 54 IFR Lesson 10: IFR Cross-Country 455
Chapter 55 IFR Lesson 11: IFR Cross- Country and Equipment Malfunctions 463
Chapter 56 IFR Lesson 12: IFR Cross- Country and Off- Airway Routes 471
Chapter 57 IFR Lesson 13: Long IFR Cross- Country 479
Chapter 58 IFR Lesson 14: Night IFR Flight 487
Chapter 59 IFR Lesson 15: Night Approaches 495
Chapter 60 IFR Lesson 16: Practical Test Preparation 503
Chapter 61 IFR Lesson 17: Practical Test Preparation 509
Chapter 62 IFR Lesson 18: IFR Practical Test 517
Part VI Advanced Scenarios 523
Chapter 63 Introduction to the Advanced Scenarios: Test Your Skills 525
Chapter 64 Advanced 1: Eugene, OR, to Olympia, WA 541
Chapter 65 Advanced 2: Night Flight: Spokane, WA, to Walla Walla, WA 545
Chapter 66 Advanced 3: Boise, ID, to Redmond, OR 549
Chapter 67 Advanced 4: Crossing the Cascades 553
Chapter 68 Advanced 5: Medford, OR, to Astoria, OR 557
Glossary 561
Index 575
Downloads
Read Me

Download
Wiley-SBT-X-Plane

Download
Wiley-SBT-PrivatePilot-X-Plane

Download
Wiley-SBT-PrivatePilot-FSX

Download
Wiley-SBT-IFR-X-Plane

Download
Wiley-SBT-IFR-FSX

Download
Wiley-SBT-FSX

Download
Wiley-SBT-Advanced-X-Plane

Download
Wiley-SBT-Advanced-FSX

Download
Charts
The zip file containing the charts can be found at 9781118105023_Charts.zip.
Web Content
The zip file containing Web Content can be found at 9781118105023_WebContent.zip.
IFR Charts
This includes IFR approach and departure charts for the instrument flying scenarios. Uploaded on 9/20/13
Download
Note From the Author
There are two sets of files that contain PDF versions of charts that complement the scenarios: 9781118105023_Charts.zip includes both VFR and IFR en route charts (sectionals, WACs, and low-altitude IFR charts) IFR_Charts.zip includes IFR approach and departure charts for the instrument flying scenarios You can find free versions of the latest versions of all of the charts at SkyVector.com.
Errata
Chapter
Page
Details
Date
Print Run
A Note for X-Plane Users from the Author
A Note for X-Plane Users

Changes in X-Plane Situation File Formats and X-Plane 10 The developers of X-Plane often change the format of the Situation files that save initial conditions for specific virtual flights in X-Plane. Given the frequency of updates to X-Plane, it?s impossible to provide Situations for each release of that simulation, and the X-Plane Situations available for download from the book?s page at Wiley will not load in X-Plane 10, which was released long after the book went to press. They also may not work with some releases of X-Plane 9.

As noted in Chapter 10, ?Using the Scenarios in This Book,? the Situations just set the initial conditions for a scenario (aircraft type, location, weather, etc.); they?re not scenarios themselves or interactive ?missions? (see especially p. 109?110).

The scenarios in the book are in effect the lesson plans, and if you can?t load the X-Plane Situation files provided to complement the scenarios in the book, you can use the description of each lesson to quickly set up the Cessna (or your choice of aircraft) at the location where a particular virtual flight begins.

For more information about X-Plane and Situations, see Chapter 6, ?A Quick Guide to X-Plane,? and the help resources described there.

If the developer of X-Plane stabilizes the file format for Situations, the author will create new sets of Situations that will load in future versions of X-Plane.
2/6/2013

---

537
Error in Text
The heading for Table 63-7:

CURRENTLY READS:
Normal Cruise in the FSX Cessna 172

SHOULD READ:
Normal Cruise in the FSX Baron
04/19/2013

---