Schizophrenia For Dummies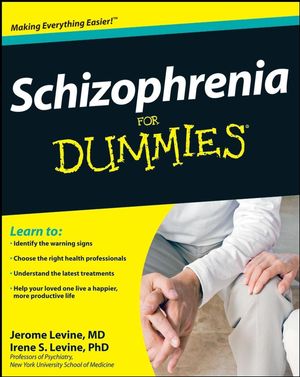 Schizophrenia For Dummies
ISBN: 978-0-470-44487-0 November 2008 384 Pages
Description
Practical tools for leading a happy, productive life

Schizophrenia is a chronic, severe, and disabling mental disorder that afflicts one percent of the population, an estimated 2.5 million people in America alone. The firsthand advice in this reassuring guide will empower the families and caregivers of schizophrenia patients to take charge, offering expert advice on identifying the warning signs, choosing the right health professional, understanding currently available drugs and those on the horizon (as well as their side effects), and evaluating traditional and alternative therapies.
Table of contents
Introduction.
Part I: Understanding Schizophrenia.
Chapter 1: Understanding Schizophrenia: The Big Picture.
Chapter 2: Causes and Risk Factors.
Chapter 3: Suspecting Schizophrenia.
Part II: Finding Out What's Wrong and Getting Help.
Chapter 4: Getting a Diagnosis.
Chapter 5: Assembling a Healthcare Team.
Chapter 6: Beginning Treatment.
Chapter 7: Paying for Your Loved One's Care.
Part III: Treating Schizophrenia.
Chapter 8: Medication and Other Medical Approaches.
Chapter 9: Psychosocial Approaches.
Chapter 10: Finding Help and Hope through Research.
Part IV: Living with Schizophrenia.
Chapter 11: Schizophrenia and the Family.
Chapter 12: Developing Coping Skills.
Chapter 13: Housing Choices: Figuring Out Where to Live.
Chapter 14: Coping with Crises.
Chapter 15: People Are More Than Patients: Addressing the Needs of the Whole Person.
Part V: The Part of Tens.
Chapter 16: Ten My ths about Schizophrenia You Can Forget.
Chapter 17: Ten Tips for Helping Families and Friends Cope and Come Out on Top.
Chapter 18: Ten Ways to Avoid Relapse.
Appendix: Resources.
Index.