Scholarship Assessed: Evaluation of the Professoriate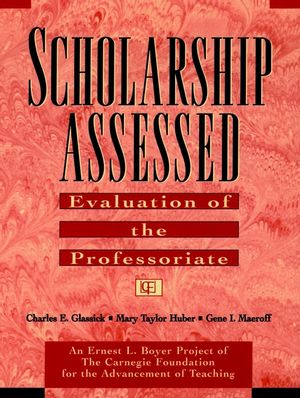 Scholarship Assessed: Evaluation of the Professoriate
ISBN: 978-0-787-91091-4
Aug 1997, Jossey-Bass
148 pages
Description
Scholarship Assessed continues the exploration begun by Scholarship Reconsidered. It examines the changing nature of scholarship in today's colleges and universities and proposes new standards with a special emphasis on methods for assessment and documentation.

Begun under the oversight of Ernest L. Boyer, and based on the findings of the Carnegie Foundation's National Survey on the Reexamination of Faculty Roles and Rewards, Scholarship Assessed provides a base of information for and gives focus to the debate of institutional standards of rigor and quality.
Prologue: Scholarship--A Personal Journey, by Ernest L. Boyer.

1. Scholarship in Transition.

2. Standards of Scholarly Work.

3. Documenting Scholarship.

4. Trusting the Process.

5. The Qualities of a Scholar.
"Effectively communicates methods for evaluating all aspects of faculty work and addresses a need felt by both faculty and administrators.... The guidelines provided by Glassick, Huber, and Maeroff will be very useful to those who want to be involved in this important change in the academy." (Faculty Development)

"This is the kind of book that will energize educators, especially those who take their teaching seriously. In fact, it is indispensable reading for anyone interested in the twin current discussions on the role of the professiorate and the changing definition of the mission of American higher education.... Recommended reading for true teachers and all those on the cutting edge of the education profession." (Forum, a publication of the Association of Christians in Higher Education)