School Counselor's Letter Book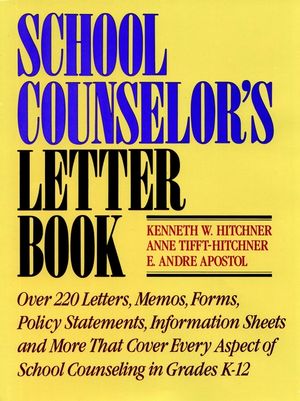 School Counselor's Letter Book
ISBN: 978-0-876-28786-6 August 1991 Jossey-Bass 288 Pages
Description
Here are over 200 counselor-tested model letters, forms, memos, worksheets, and checklists specifically designed to help you cut the time you spend on paperwork in half, letting you spend more time interacting with students, teachers, and parents.

This wide-ranging resource saves you time in virtually every counseling situation that requires written communications-- from letters to parents and student progress reports to pre-college counseling and crisis intervention.
Introduction.

SECTION I. EDUCATIONAL DEVELOPMENT.

Topic 1. Course Selection and Programming.

Topic 2. Homework and Study Habits.

Topic 3. Progress Reports and Warnings.

Topic 4. Exceptional Students.

Topic 5. Testing Curriculum.

SECTION II. PERSONAL COUNSELING.

Topic 6. Developmental Counseling.

Topic 7. Behavior and Self-Esteem.

Topic 8. Recognition Activities.

Topic 9. Crisis Issues.

Topic 10. Attendance and Transfers.

SECTION III. COUNSELING FOR THE FUTURE.

Topic 11. Postsecondary Planning.

Topic 12. College Admissions.

SECTION IV. COMMUNICATION AND PROFESSION DEVELOPMENT.

Topic 13. Conferences.

Topic 14. Communicating with Teachers.

Topic 15. Communicating with parents and the Community.

Topic 16. Evaluation and Accountability.