School Crisis Survival Guide: Management Techniques and Materials for Counselors and Administrators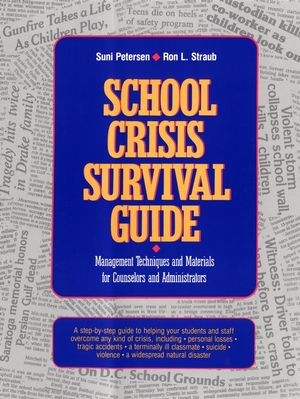 School Crisis Survival Guide: Management Techniques and Materials for Counselors and Administrators
ISBN: 978-0-876-28806-1
Oct 1991, Jossey-Bass
216 pages
Description
Here are hundreds of step-by-step guidelines, strategies, and working plans for helping students in grades K-12 overcome any kind of crisis or tragedy, including personal losses, tragic accidents, a terminally ill classmate, suicide, violence, and natural disasters. Plus, this complete and comprehensive resource includes reproducible activity sheets for counselors and teachers to use at different stages of a child's recovery -- activities that will help put children in touch with their feelings, identify problems, and easy their healing.
Part I: Planning for Crisis.

What Constitutes a Crisis?

Why the School Must Address a Crisis.

Establishing Your School Crisis Tem.

Establishing a System-Wide Crisis Team.

Assessing the Team's Preparedness.

Components of a Good Plan.

Part II: The Crisis Team in Motion.

Checking the Facts.

Adapting the Plan to Fit the Crisis.

Making the Announcement.

Staff Roles and Responsibilities During a Crisis.

The Memorial Service.

Addressing the Media.

The Aftermath of a Crisis.

Summary.

Part III: Crisis Counseling.

Effects of Trauma on Children.

Age Level and Perceptions of Death.

Short-Term Reactions to Trauma.

Long-Term Effects of Crisis.

Understanding Grief.

Grief Counseling.

Post Traumatic Stress Disorder.

Preventing Post Traumatic Stress Disorder.

Part IV: Activities for the Resolution of Trauma and Grief.

Individual Activities.

Individual or Group Activities.

Group Activities.

Part V: Special Concerns for Specific Crises.

Factors that Increase the Likelihood of Trauma.

Suicide Prevention.

Suicide Postvention.

Preventing Violence in the School.

Coping with a Violent Crises.

Coping with a Natural Disaster.

When There Is a Dying Child in the Classroom.

Appendix.

Books for Students.

Resource Books.

Bibliography.

Charts and Boxes.