Science Essentials, High School Level: Lessons and Activities for Test Preparation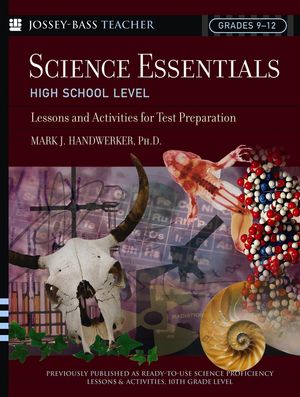 Science Essentials, High School Level: Lessons and Activities for Test Preparation
ISBN: 978-0-787-97575-3
Dec 2004, Jossey-Bass
416 pages
Description
Science Essentials High School Level gives classroom teachers and science specialists a dynamic and progressive way to meet curriculum standards and competencies. Science Essentials are also available from Jossey-Bass publishers at the Elementary School and Middle School Levels.

You'll find the lessons and activities at each level actively engage students in learning about the natural and technological world in which we live by encouraging them to use their senses and intuitive abilities on the road to discovery. They were developed and tested by professional science teachers who sought to give students enjoyable learning experiences while preparing them for district and statewide proficiency exams. For easy use, the lesson and activities at the High School Level are printed on a big 8 ½" x 11" lay-flat format that folds flat for photocopying of over 107 student activity sheets, and are organized into two sections:
BIOLOGY (60 Lessons)
CHEMISTRY (47 Lessons)
Buy Both and Save 25%!
Original Price:$64.95
Purchased together:$48.71
save $16.24
Cannot be combined with any other offers.
About This Science TestPrep Teaching Resource v
I. BIOLOGY 1
Lessons 1 through 60 4 - 200
Basic Principles, Science Competencies, Reproducibles.
Chemical Reactions in Specialized Cell Organelles.
Cell Reproduction: Mitosis.
Genetic Variation in a Population: Mutation and Sexual Reproduction.
Development of Multicellular Organisms: The Zygote.
Phenotype and Genotype.
Genes and DNA.
Stability in an Ecosystem.
Frequency of Alleles in Gene Pools.
Evolution: The Result of Genetic Changes in Changing Environments.
The Internal Environment of the Human Body: Homeostasis.
Combating Disease.
Biology Practice Test 203
II. CHEMISTRY 215
Lessons 61 through 107 218 - 362
Basic Principles, Science Competencies, Reproducibles.
The Periodic Table.
Biochemical, Chemical, and Physical Properties of Matter Result from Ability of Atoms to Form Bonds Based on Electrostatic Forces Between Electrons and Protons and Between Atoms and Molecule.
The Conservation of Atoms in Chemical Reactions, The Principle of Conservation of Matter.
The Kinetic-Molecular Theory.
Acids, Bases, and Salts.
Solutions.
Energy: Exchange and Transformation.
Chemical Reaction Rates.
Chemical Equilibrium.
The Bonding Characteristics of Carbon.
Nuclear Processes: Radioactive Decay, Nuclear Fission, Nuclear Fusion.
The Periodic Table of Elements 365
Chemistry Practice Test 367
Appendix 381
Preparing Your Students for Standardized Proficiency Tests 381 - 393
Ideal for standardized test preparation

Complete lessons with evaluation

In-depth coverage of the key science subjects most often taught in high school: biology and chemistry