Science Fair Projects For Dummies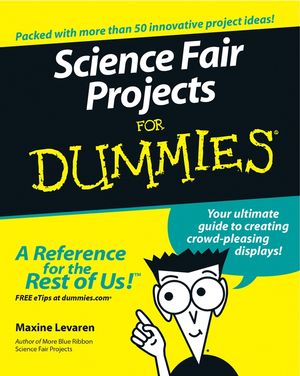 Science Fair Projects For Dummies
ISBN: 978-0-764-55460-5
Nov 2002
388 pages
Description
Uh-oh, now you've gone and done it, you volunteered to do a science fair project. Don't sweat it, presenting at a science fair can be a lot of fun. Just remember, the science fair is for your benefit. It's your chance to show that you understand the scientific method and how to apply it. Also, it's an opportunity for you to delve more deeply into a topic you're interested in. Quite a few scientists, including a few Nobel laureates, claim that they had their first major breakthrough while researching a science fair project. And besides, a good science fair project can open a lot of doors academically and professionally—but you already knew that.

Stuck on what to do for your science project? This easy-to-follow guide is chock-full of more than 50 fun ideas and experiments in everything from astronomy to zoology. Your ultimate guide to creating crowd-pleasing displays, it shows you everything you need to know to:
Choose the best project idea for you
Make sure your project idea is safe, affordable, and doable
Research, take notes, and organize your facts
Write a clear informative research paper
Design and execute your projects
Ace the presentation and wow the judges
Science fair guru Maxine Levaren gives walks you step-by-step through every phase of choosing, designing, assembling and presenting a blue ribbon science fair project. She gives you the inside scoop on what the judges are really looking for and coaches you on all the dos and don'ts of science fairs. And she arms you with in-depth coverage of more than 50 winning projects, including:
Projects involving experiments in virtually every scientific disciplines
Computer projects that develop programs to solve a particular problem or analyze system performance
Engineering projects that design and build new devices or test existing devices to compare and analyze performance
Research projects involving data collection and mathematical analysis of results
Your complete guide to doing memorable science projects and having fun in the process, Science Fair Projects For Dummies is a science fair survival guide for budding scientists at every grade level.
Introduction.
Part I: A Magical Mystery Tour of Science Fair Projects.
Chapter 1: Science Fair Projects 101: Discovering What They're All About.
Chapter 2: Getting the Skinny on Science Fair Projects (And How They Can Help You).
Chapter 3: Tackling and Categorizing Your Projects.
Part II: Choosing a Project and Getting Started.
Chapter 4: What's the Big Idea? Finding a Project Topic.
Chapter 5: Getting the 4-1-1: Information Please!
Chapter 6: Writing Your Background Research Paper.
Part III: The Nitty-Gritty: Stepping Through the Project.
Chapter 7: Keeping Your Project on Track.
Chapter 8: Getting to the Nuts and Bolts: The Scientific Method.
Chapter 9: Over Here, Igor: Doing Your Project.
Chapter 10: That's a Wrap: Winding Up Your Project!
Part IV: Show and Tell.
Chapter 11: Creating a Project Notebook.
Chapter 12: Displaying Your Project.
Part V: The Finals: Knowing What to Expect at the Fair.
Chapter 13: Entering the Construction Zone: Setting Up Your Project.
Chapter 14: Bringing On the Judges.
Chapter 15: Going for the Gold: Science Fair Awards.
Part VI: Some Superb Science Project Picks.
Chapter 16: Easy As Pie.
Chapter 17: Kicking It Up a Notch.
Chapter 18: Taking the Challenge.
Part VII: The Part of Tens.
Chapter 19: Ten Bad Project Ideas and Why You Should Avoid Them.
Chapter 20: Ten Great Web Sites (Okay, 23 Actually).
Chapter 21: Ten Fun Things to Do at the Science Fair.
Chapter 22: Ten Science Project Survival Tips for Parents.
Chapter 23: Ten MVPS (Most Valuable Project Supplies).
Index.