Science Fiction and Philosophy: From Time Travel to Superintelligence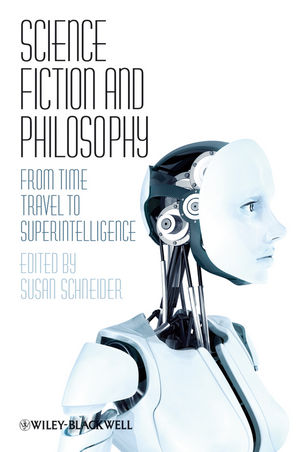 Science Fiction and Philosophy: From Time Travel to Superintelligence
ISBN: 978-1-405-14906-8
May 2009, Wiley-Blackwell
368 pages
Description
A timely volume that uses science fiction as a springboard to meaningful philosophical discussions, especially at points of contact between science fiction and new scientific developments.
Raises questions and examines timely themes concerning the nature of the mind, time travel, artificial intelligence, neural enhancement, free will, the nature of persons, transhumanism, virtual reality, and neuroethics
Draws on a broad range of books, films and television series, including The Matrix, Star Trek, Blade Runner, Frankenstein, Brave New World, The Time Machine, and Back to the Future
Considers the classic philosophical puzzles that appeal to the general reader, while also exploring new topics of interest to the more seasoned academic
Sources and Acknowledgments
Introduction
Thought Experiments: Science Fiction as a Window into Philosophical Puzzles (Susan Schneider).
Part I: Could I be in a "Matrix" or Computer Simulation? Related Works: The Matrix; Permutation City; The 13th Floor; Vanilla Sky; Total Recall; Animatrix
1. Brain in a Vat (John Pollock).
2. Are You In a Computer Simulation (Nick Bostrom).
3. Excerpt from The Republic Plato
4. Excerpt from The Meditations on First Philosophy (René Descartes).
5. The Matrix as Metaphysics (David J. Chalmers).
Part II: What Am I? Free Will and the Nature of Persons Related Works: Software; Star Trek, The Next Generation: Second Chances; Mindscan; The Matrix; Minority Report
6. Where Am I (Daniel C. Dennett).
7. Personal Identity (Eric Olson).
8. Divided Minds and the Nature of Persons (Derek Parfit).
9. Who Am I? What Am I (Ray Kurzweil).
10. Free Will and Determinism in the World of Minority Report (Michael Huemer).
11. Excerpt from "The Book of Life: A Thought Experiment" (Alvin I. Goldman).
Part III: Mind: Natural, Artificial, Hybrid, and "Super" Related Works: 2001; Blade Runner; AI; Frankenstein; Terminator; I, Robot
12. Robot Dreams (Isaac Asimov).
13. A Brain Speaks (Andy Clark).
14. The Mind as the Software of the Brain (Ned Block).
15. Cyborgs Unplugged (Andy Clark).
16. Consciousness in Human and Robot Minds (Daniel C. Dennett).
17. Superintelligence and Singularity (Ray Kurzweil).
Part IV: Ethical and Political Issues Related Works: Brave New World; Gattaca; Terminator; White Plague
18. The Man on the Moon (George J. Annas).
19. Mindscan: Transcending and Enhancing the Human (Brain Susan Schneider).
20. The Doomsday Argument (John Leslie).
21. Asimov's "Three Laws of Robotics" and Machine Metaethics (Susan Leigh Anderson).
22. Ethical Issues in Advanced Artificial Intelligence (Nick Bostrom).
Part V: Space and Time Related Works: Twelve Monkeys; Slaughterhouse Five; The Time Machine; Back to the Future; Flatland: A Romance in Many Dimensions
23. A Sound of Thunder (Ray Bradbury).
24. Time (Theodore Sider).
25. The Paradoxes of Time Travel (David Lewis).
26. The Quantum Physics of Time Travel (David Deutsch and Michael Lockwood).
27. Miracles and Wonders: Science Fiction as Epistemology (Richard Hanley).
Index
"Despite its rather uneven balance between philosophy and literary criticism, the volume is a valuable pedagogical resource which will benefit tutors and students who are seeking to engage proactively with modern technology and its fictional representation."  (Forum for Modern Language Studies, 3 June 2012)
"If science fiction and philosophy give you pleasure, you may enjoy reading this book immensely. " (Minds & Machines, 2010)
"Science Fiction and Philosophy brings two areas together and into a dialogue: philosophy holds the fantasmatic enjoyment of science fiction to account for its illusions and awesome possibilities while science fiction reminds philosophy that all reason and no play makes thought a very dull thing indeed. Hopefully, this volume will find its way into the hands of those who wish to discover something about the highly technological world-view and horizon of meaning of our current epoch." (Discover Magazine, November 2010)"Science Fiction and Philosophy: From Time Travel to Superintelligence (Wiley-Blackwell Publishing, 2009), Schneider mines time travel, artificial intelligence, robot rights, teleportation, and genetic modification to discuss the nature of space and time, free will, transhumanism, the self, neuroethics, and reality." (Discover, December 2010)
"Looking over the pages one can see Schneider's attention to detail … .Schneider has obviously made her choices for their accessibility and we should applaud her for this … .The collection stands as an important and provocative dialogue between two very rich areas of contemporary cultures and societies. Science Fiction and Philosophy gives us a chance to redeem science fiction … and take the questions it poses seriously and with a critical gaze. This volume will be of interest to audiences read in science fiction, philosophy of science, philosophy of time, philosophy of mind, consciousness studies, epistemology, robot ethics and bio-ethics and biotechnology and general audiences alike." (Metapsychology)
"I highly recommend Schneider's collection, whether for use as a reader in a course on philosophy and science fiction, or simply for those interested in engaging the issues raised in much science fiction at a higher degree of abstraction, in conversation not only with the works of fiction themselves but also the philosophers and physicists who tackle many of the same questions from other angles." (Exploring Our Matrix, June 2009)
Uses science fiction as a springboard to meaningful philosophical discussions, especially at points of contact between science fiction and new scientific developments
Raises questions and examines timely themes concerning the nature of the mind, time travel, artificial intelligence, neural enhancement, free will, the nature of persons, transhumanism, virtual reality, and neuroethics
Draws on a broad range of books, films and television series, including The Matrix, Star Trek, Blade Runner, Frankenstein, Brave New World, The Time Machine, and Back to the Future
Considers the classic philosophical puzzles that appeal to the general reader, while also exploring new topics of interest to the more seasoned academic