Science Quest 8 for Victoria Australian Curriculum Edition & EbookPlus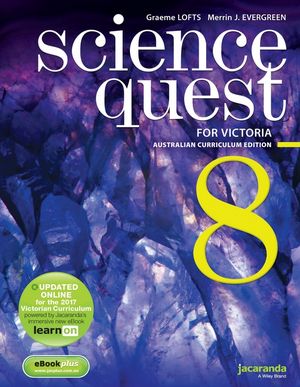 Science Quest 8 for Victoria Australian Curriculum Edition & EbookPlus
ISBN: 978-0-730-31332-8
Dec 2014, Jacaranda
360 pages
Product not available for purchase
Description
Jacaranda Science Quest 8 has been updated to meet and exceed the aspirations of the 2017 Victorian Curriculum: Science for Years 7-10.

This is a digital-only product that is available on Jacaranda's immersive new eBook, learnON. The new eBook also includes additional teacher resources such as quarantined questions and answers, curriculum grids and teacher notes – no separate eGuide purchase is required.
KEY FEATURES

• Improvememts made throughout the series based on in-depth research and feedback from practising teachers of Science in Victoria.
• Assessment material and comprehensive teacher support incorporating both AusVELS Progression Points and the Australian Curriculum Achievement Standards.
• Latest scientific updates in all topics including communication, biology and space.
• New eLessons and interactivities including video clips from the popular series 'The story of Science' featuring Michael Mosley.
• Individual pathways indicated for every set of activities.

For complete product information including table of contents and sample chapters, visit our website at http://www.jacaranda.com.au/solutions/titles/science-quest-8-victorian-curriculum/.
About this Book

Preface

Acknowledgements
Chapter 1 Science is...

Chapter 2 Language of Learning

Chapter 3 Cells

Chapter 4 Body Systems 1

Chapter 5 Body Systems 2

Chapter 6 States of Matter

Chapter 7 Elements, Compounds & Mixtures

Chapter 8 Chemical Change

Chapter 9 Sedimentary, Igneous & Metamorphic Rocks

Chapter 10 Transferring and Transforming Energy
Glossary

Index