Science in the 20th Century and Beyond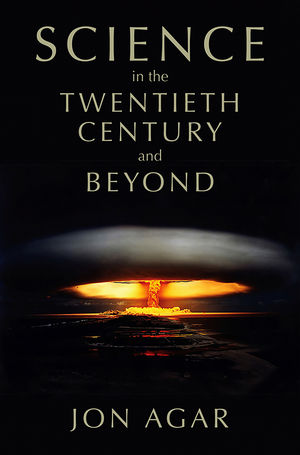 Science in the 20th Century and Beyond
ISBN: 978-0-745-66049-3 May 2013 Polity 480 Pages
Download Product Flyer
Download Product Flyer
Download Product Flyer is to download PDF in new tab. This is a dummy description. Download Product Flyer is to download PDF in new tab. This is a dummy description. Download Product Flyer is to download PDF in new tab. This is a dummy description. Download Product Flyer is to download PDF in new tab. This is a dummy description.
Description
A compelling history of science from 1900 to the present day, this is the first book to survey modern developments in science during a century of unprecedented change, conflict and uncertainty. The scope is global.

Science's claim to access universal truths about the natural world made it an irresistible resource for industrial empires, ideological programs, and environmental campaigners during this period. Science has been at the heart of twentieth century history - from Einstein's new physics to the Manhattan Project, from eugenics to the Human Genome Project, or from the wonders of penicillin to the promises of biotechnology. For some science would only thrive if autonomous and kept separate from the political world, while for others science was the best guide to a planned and better future. Science was both a routine, if essential, part of an orderly society, and the disruptive source of bewildering transformation.

Jon Agar draws on a wave of recent scholarship that explores science from interdisciplinary perspectives to offer a readable synthesis that will be ideal for anyone curious about the profound place of science in the modern world.
Table of contents
Acknowledgements
1. Introduction
Part 1: Science after 1900
2. New Physics
3. New Sciences of Life
4. New Sciences of the Self
Part 2: Sciences in a World of Conflict
5. Science and the First World War
6. Crisis: Quantum Theories and Other Weimar Sciences
7. Science and Imperial Order
8. Expanding Universes: Private Wealth and American Science
9. Revolutions and Materialism
10. Nazi Science
11. Scaling Up, Scaling Down
Part 3: Second World War and Cold War
12. Science and the Second World War
13. Trials of Science in the Atomic Age
14. Cold War Spaces
15. Cold War Sciences (1): Sciences from the Working World of Atomic Projects
16. Cold War Sciences (2): Sciences from Information Systems
Part 4: Sciences of Our World
17. Transition: Sea Change in the Long Sixties
18. Networks
19. Connecting Ends
Part 5: Conclusions
20. Science in the Twentieth Century and Beyond
Reviews
Winner of the Choice award for Outstanding Academic Title

"Agar has abstracted and made manageable a range of rich and informed analysis. Anyone who thinks seriously about science will find it a very useful source."
The Economist
"Global in scope and fresh in approach, this monumental history lays out the evolution of science during a tumultuous century."
Nature
"Truly extraordinary in its depth and breadth, it makes significant contributions to the history of science and more broadly to our understanding of twentieth-century history. It is also remarkable in that, while written primarily with a scholarly audience in mind, it's nevertheless accessible and of interest to a wider audience, and an excellent advertisement for the discipline."
British Society for the History of Science
"Judging by the majestic scope of Jon Agar's new volume, we still have fertile big-picture approaches to guide us through the untidily evolving and multiplying plurality of the natural sciences. Generations of students might take great pride in critiquing the book, just as scholars have done for fifty years with Kuhn's (in)famously challenging
The Structure of Scientific Revolutions
."
Reviews in History
"Agar's approach focuses on the relationship of science to external ideas and practices, thus tying it more tightly to broader histories; it also emphasises patterns of discovery over the individual flashes of insight. Both are useful correctives, and scientists, historians and those who aspire to be either will all benefit from them."
Prospect
- picked for 'What to read this summer'
"A masterful, yet eminently readable, synthesis, which is unquestionably an essential addition to the library of historians of science. I suggest it would also be of wider relevance to teachers of A-level science, giving us a little of the breadth occasionally."
School Science Review
"All technology has its genesis, but everyone seems to have been too busy to synthesise the elements and tell the full story. Jon Agar has set this to rights with this book, which will interest the scholar, the historian and the enquiring mind of any discipline."
Network Computing
"A synthetic history of a subject as big, broad and diverse as twentieth-century science is a major achievement. But Agar has given us something more than that: his book is an innovative model of how one might think about scientific practices at temporal and institutional scales much larger than those to which modern historical writing has become accustomed."
Steven Shapin, Harvard University, and author of The Scientific Life: A Moral History of a Late Modern Vocation
"Science in the Twentieth Century and Beyond is the book historians of modern science have been waiting for. It offers an ambitious yet masterly synthesis of the vast historical literature on twentieth-century and contemporary science. Through the concept of the 'working worlds' of science, it provides a unified and compelling analytical framework within which to interpret and illuminate this ever expanding literature and the development of the sciences from 1900 to the present. Jon Agar is a sure-footed and informative guide over this complex terrain; what results is a clear and comprehensive work of breadth and vision that few other scholars could have produced. Superbly crafted, elegantly written, inventive and thought-provoking, the book makes an absolutely invaluable contribution to the history of science. It will be indispensable to anyone who teaches, researches or is just interested in the history of modern science and the contemporary world."
Jeff Hughes, University of Manchester
"A fine chronological survey of the multiple worlds in which scientists worked in the twentieth century, responding to their demands by seeking to understand, to manipulate and to transform them."
John Krige, Georgia Institute of Technology
"A tour-de-force, covering a period of over a hundred years in which the growth of science has been exponential, and astonishing in its coverage of the various branches of science and their inosculations. There is no other book with the same range, and command of material and recent scholarship."
David Knight, Durham University

"Key ideas are articulated and linked in interesting and surprising ways, key contexts described and a few explored in detail, and the demands of these contexts are linked to ideas. This is a trope which offers the prospect of addressing the scale of twentieth-century science and rendering it in exemplary narratives which convey meaning to the reader in the recognisable form of human lives and work."
Robert Bud, The Science Museum, London
Features
Much-needed overview of the history of science from 1900 to the present day.

Emphasises the crucial part that science has played in the bigger picture of twentieth century history, from Einstein's new physics to the Human Genome Project.

Considers the interplay between science and the political world.

Weaves together a wealth of recent scholarship into a vibrant, highly accessible synthesis.