Science of the Placebo: Toward an Interdisciplinary Research Agenda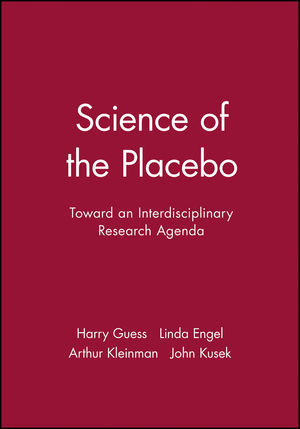 Science of the Placebo: Toward an Interdisciplinary Research Agenda
ISBN: 978-0-727-91594-8 March 2002 BMJ Books 346 Pages
Description
Based on a meeting in November 2000, this book brings together researchers from a wide range of disciplines to examine the biological, behavioral, social, cultural and ethical aspects related to the placebo effect. Perspectives on the necessity for including a placebo in randomized clinical trials will also be examined.
This is the first attempt to examine the evidence-base of the placebo effect and will provide important information for clinicans.
Table of contents
Contributors.
Foreword.
1 An Overview.
Section 1: Historical and Ethical Perspectives.
2 "Seeing" the Placebo Effect: Historical Legacies and Present Opportunities.
3 Ethical Issues in Use of Placebo in Medical Practice and Clinical Trials.
Section 2: Elucidating Placebo Effects: Explanatory Mechanisms.
4 Explanatory Mechanisms for Placebo Effects: Cultural Influences and the Meaning Response.
5 Explanatory Mechanisms for Placebo Effects: Cognition, Personality and Social Learning.
6 Explanatory Mechanisms for Placebo Effects: Pavlovian Conditioning.
7 Regression to the Mean or Placebo Effect?.
Section 3: Elucidating Placebo Effects: Intervening Psychophysiology.
8 Neuriendocrine Meidators of Placebo Effects on Immunity.
9 Endogenous Opioid and Non-Opioid Pathways as Mediators of Placebno Analgesia.
Section 4: Use of Placebo Groups in Clinical Trials-Methodological and Ethical Issues.
10 Placebo controlled Trials and Active Controlled Trials: Ethics and Inference.
11 When is it Appropriate to Use a Placebo Arm in a Trial?.
12 The Pros and Cons of Non-Inferiority (Equivalence) Trials.
13 Use of Placebo in Large-Scale, Pragmatic Trials.
14 Placebo Controls in Clinical Trials of New Therapies for Conditions for which there are Known Effective Treatments.
Section 5: Priorities for Future Research.
15 The Research and Ethical Agenda.
Section 6: Conclusions and Future Directions.
16 Conclusions and Future Directions.
Appendix.
Index.
Features
First book of it's kind to examine the placebo effect
An essential practical and theoretical guide for those who want a comprehensive review of the state of placebo science and ethical use of placebos in clinical trials