Scientific Simulations with Special-Purpose Computers: The Grape Systems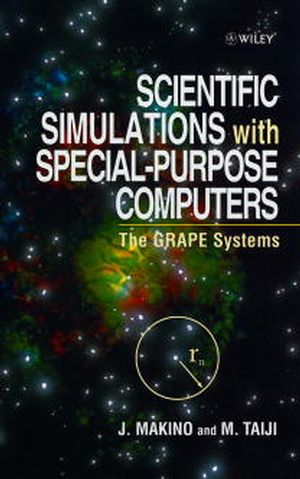 Scientific Simulations with Special-Purpose Computers: The Grape Systems
ISBN: 978-0-471-96946-4
Mar 1998
248 pages
Description
Scientific Simulations with Special-Purpose Computers. The GRAPE Systems J. Makino University of Tokyo, Japan and M. Taiji Institute for Statistical Mathematics, Tokyo, Japan Physics is full of complex many-body problems, i.e. problems where there are a large number of bodies interacting. This is particularly true in astrophysics, where stars or galaxies can be thought of as individual particles, but also in plasma physics, hydrodynamics and molecular dynamics. Special purpose computers have been developed to handle these highly complex problems. Scientific Simulations with Special-Purpose Computers gives an overview of these systems, and then focuses on an extremely high profile and successful project-the GRAPE computer at the University of Tokyo-and discusses its development, performance and applications across a range of problems. The future development and applications of special purpose computers are also discussed. Written by two of the leading developers of the GRAPE system, this unique volume will be of great interest to readers across a wide range of fields, including, astrophysicists, astronomers, plasma physicists, researchers in molecular dynamics and computer scientists.
The Evolution of General-Purpose Computers.

Overview of Special-Purpose Systems.

The GRAPE Systems.

Software.

Science by Special-Purpose Systems.

The Future of Special-Purpose Computers.

References.

Index.
"It is an excellent summary text of the GRAPE systems and what they have achieved but not such a good introduction to scientific simulations with special-purpose computers in a wider context." (The Observatory Magazine, Vol. 119, No. 1149, April 1999)