Scientific Visualization and Graphics Simulation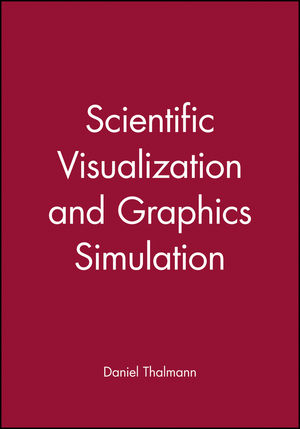 Scientific Visualization and Graphics Simulation
ISBN: 978-0-471-92742-6 January 1991 274 Pages
Description
Dedicated to scientific visualization--the new approach in the field of numerical simulation--which focuses on basic geometric, animation and rendering techniques specific to visualization, as well as concrete applications in sciences and medicine. Chapters are written by recognized experts in various aspects of visualization. Following an overview of graphics workstations and processors, covers fundamental problems of computational geometry, various aspects related to representing volume and special methods for modelling natural objects. Particle systems and modular maps, basic and advanced techniques in computer animation, and robotics methods for task-level and behavioral animation are discussed, in addition to applications of visualization and graphics simulation, and computer vision.
Table of contents
Partial table of contents:

Architecture of Graphic Systems (J. Nicoud).

Surface Visualization (P. Buser, et al.).

The Finite Element Method: Basic Principles (J. Gourret).

Special Models for Natural Objects (A. Gagalowicz).

Robotics Methods for Task-Level and Behavioral Animation (D.Thalmann).

Visualization of Flow Simulations (R. Richter, et al.).

Visualization of Botanical Structures and Processes UsingParametric L-Systems (P. Prusinkiewicz & J. Hanan).

Grapics Visualization and Artificial Vision (C. Baur & S.Beer).

Graphics Simulation in Robotics (N. Stewart).