Scrapbooking For Dummies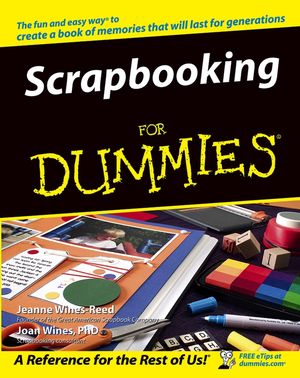 Description
Scrapbooking is sweeping the nation! This hot hobby is a fantastic way to preserve your memories and family history—and have a lot of fun doing it. Now, here's an easy-to-follow guide that will have you creating great scrapbook projects in no time.

Scrapbooking For Dummies is perfect for you if you're a new scrapbooker who wants to create your own personal scrapbook (or who would like to make a special scrapbook for a friend or loved one) or if you're already an avid scrapbooker who's looking for helpful tips and new ideas. This friendly guide takes the guesswork out of creating well-designed albums. You'll discover how to:
Organize your photographs and memorabilia

Assemble the right tools and materials

Research your personal history and tell your story

Design attractive, foolproof page layouts

Network with other scrapbookers
This plain-English guide features clear, close-up photographs and sketches that illustrate just what you want to know about scrapbooking tools and techniques. You'll learn about the different styles of scrapbooking, how to create unity in your albums, and how to take better pictures (including advice on digital photography). You receive hands-on guidance every step of the way as you:
Choose a theme or occasion

Crop and mount photographs

Accessorize with stickers, stamps, and more

Enhance your albums through journaling

Avoid costly, time-consuming mistakes

Take proper care of photographs and negatives

Extend the life of your old photos
Complete with ten great scrapbooking projects and a list of online resources, Scrapbooking For Dummies gives you the tools you need to create beautiful albums to share with family and friends—and pass on to future generations!
Introduction.
Part I: The Amazing World of Scrapbooking.
Chapter 1: Previewing the Scrapbook Scene.
Chapter 2: Getting Ready to Scrapbook.
Chapter 3: The Basics of Making Dynamite Layouts.
Part II: Focusing on Photos.
Chapter 4: Taking Good Pictures.
Chapter 5: Enhancing Your Photographs.
Chapter 6: Caring for Your Photos.
Part III: Materials Matter.
Chapter 7: It's All Covered: Albums, Adhesives, and Page Protectors.
Chapter 8: Following the Paper Trail.
Chapter 9: Cutting-Edge Tools and Templates.
Chapter 10: Accessorizing Your Scrapbook.
Part IV: Where's the Story? Journaling in Scrapbooks.
Chapter 11: Finding Your Journaling Inspiration.
Chapter 12: Researching Your Story.
Chapter 13: Generating Your Journaling Content.
Chapter 14: Integrating Journaling and Scrapbook Design.
Part V: Putting Your Talents to Work.
Chapter 15: Getting Your Scrapbook Items Together.
Chapter 16: Creating a Unified Style with Colors and Materials.
Chapter 17: Laying Out and Completing Your Scrapbook Pages.
Part VI: The Part of Tens.
Chapter 18: Ten (or So) Great Projects to Grow On.
Chapter 19: Ten (or So) Terrific Scrapbooking Web Sites.
Chapter 20: Ten "To-Do's" for the Beginning Scrapbooker.
Index.