Screenwriting For Dummies, 2nd Edition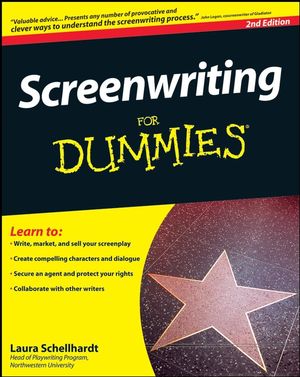 Screenwriting For Dummies, 2nd Edition
ISBN: 978-1-118-05262-4 February 2011 360 Pages
Description
Write a great script and get it into the hands of the Hollywood players!
So you want to be a screenwriter? Whether you want to write a feature film or a TV script or adapt your favorite book, this friendly guide gives you expert advice in everything from creating your story and developing memorable characters to formatting your script and selling it to the studios. You get savvy industry tips and strategies for getting your screenplay noticed!
The screenwriting process from A to Z -- from developing a concept and thinking visually to plotline, conflicts, pacing, and the conclusion
Craft living, breathing characters -- from creating the backstory to letting your characters speak to balancing dialogue with action
Turn your story into a script -- from developing an outline and getting over writer's block to formatting your screenplay and handling rewrites
Prepare for Hollywood -- from understanding the players and setting your expectations to polishing your copy and protecting your work
Sell your script to the industry -- from preparing your pitch and finding an agent to meeting with executives and making a deal
Open the book and find:
The latest on the biz, from entertainment blogs to top agents to box office jargon
New story examples from recently released films
Tips on character development, a story's time clock, dramatic structure, and dialogue
New details on developing the nontraditional screenplay -- from musicals to animation to high dramatic style
Expanded information on adaptation and collaboration, with examples from successful screenwriting duos
Foreword.
Introduction.
Part I: So You Want to Write for Pictures.
Chapter 1: Introducing the Art of Screenwriting.
Chapter 2: Preparing to Think Visually.
Chapter 3: Diving In to the Screenwriter?s Mind.
Chapter 4: Approaching Screenwriting as a Craft.
Part II: Breaking Down the Elements of a Story.
Chapter 5: Unpacking Your Idea.
Chapter 6: Plot Part I: Beginnings.
Chapter 7: Plot Part II: Middles.
Chapter 8: Plot Part III: Endings.
Chapter 9: Character Building.
Chapter 10: Say What? Constructing Dynamic Dialogue.
Chapter 11: The Nontraditional Film.
Chapter 12: Maintaining an Audience?s Trust.
Part III: Turning Your Story into a Script.
Chapter 13: Mapping Out Your Screenplay.
Chapter 14: Surviving Writer?s Block.
Chapter 15: Formatting Your Screenplay.
Chapter 16: Putting It Together: Structuring Your First Draft.
Chapter 17: Take Two: Rewriting Your Script.
Chapter 18: Adaptation and Collaboration: Two Alternate Ways to Work.
Part IV: Selling Your Script to Show Business.
Chapter 19: Before You Send It: Premarketing Considerations.
Chapter 20: Getting Your Screenplay Noticed.
Part V: The Part of Tens.
Chapter 21: Ten Screenwriters You Should Know.
Chapter 22: Ten Screenwriting Myths.
Index.