Scripting Your World: The Official Guide to Second Life Scripting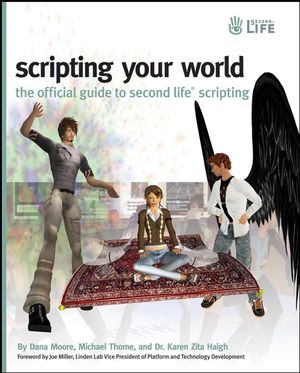 Scripting Your World: The Official Guide to Second Life Scripting
ISBN: 978-0-470-42251-9
Apr 2009
350 pages
Product not available for purchase
Description
Find complete information about Second Life scripting and gain access to more than 50 previously unpublished ready-to-use scripts in Scripting Your World: The Official Guide to Second Life Scripting.  Learn how to script Second Life behaviors, grouped into categories like avatar movement, communications, prim and object control, automation, land control, combat, special effects, environment control and physics, and interacting with the world outside of Second Life.  After you read this engaging book, you will possess a solid understanding Linden Scripting Language conventions.
1. Getting a feel for the language:  The basics and/or a Review.
2. Getting your Avatar to stand up (and out).
3. Communications (to avs, but mostly setting stage for inter-prim comms).
4. Prims and Objects.
5. Automation.
6. Land.
7. Combat: Push, Physics, Damage.
8. Interlude: Special Projects.
9. Special-Effects Department.
10. Reacting to the Virtual Environment.
11. Sound and Video (multimedia).
12. Interacting with the Real World.
13. Selling It.
14. Dealing with Problems.
17. A Look to the Future.