Sea Ice: An Introduction to its Physics, Chemistry, Biology and Geology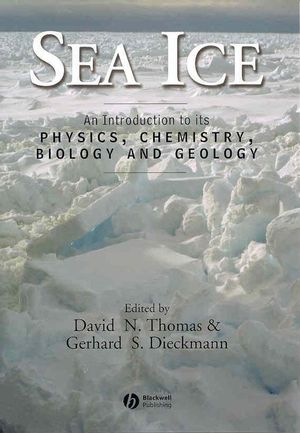 Sea Ice: An Introduction to its Physics, Chemistry, Biology and Geology
ISBN: 978-0-632-05808-2 June 2003 Wiley-Blackwell 416 Pages
Download Product Flyer
Download Product Flyer
Download Product Flyer is to download PDF in new tab. This is a dummy description. Download Product Flyer is to download PDF in new tab. This is a dummy description. Download Product Flyer is to download PDF in new tab. This is a dummy description. Download Product Flyer is to download PDF in new tab. This is a dummy description.
Description
Sea ice, which covers up to 7% of the planet's surface, is a major component of the world's oceans, partly driving ocean circulation and global climate patterns. It provides a habitat for a rich diversity of marine organisms, and is an extremely valuable source of information in studies of global climate change and the evolution of present day life forms. Increasingly sea ice is being used as a proxy for extraterrestrial ice covered systems.
Sea Ice provides a comprehensive review of our current available knowledge of polar pack ice, the study of which is severely constrained by the logistic difficulties of working in such harsh and remote regions of the earth. The book's editors, Drs Thomas and Dieckmann have drawn together an impressive group of international contributing authors, providing a well-edited and integrated volume, which will stand for many years as the standard work on the subject. Contents of the book include details of the growth, microstructure and properties of sea ice, large-scale variations in thickness and characteristics, its primary production, micro-and macrobiology, sea ice as a habitat for birds and mammals, sea ice biogeochemistry, particulate flux, and the distribution and significance of palaeo sea ice.

Sea Ice is an essential purchase for oceanographers and marine scientists, environmental scientists, biologists, geochemists and geologists. All those involved in the study of global climate change will find this book to contain a wealth of important information. All libraries in universities and research establishments where these subjects are studied and taught will need multiple copies on their shelves.

David Thomas is at the School of Ocean Sciences, University of Wales, Bangor, UK.
Gerhard Dieckmann is at the Alfred Wegener Institute for Polar and Marine Research, Bremerhaven, Germany
Table of contents
Foreword by G. E. (Tony) Fogg.
Acknowledgements.
Chapter 1 The Importance of Sea Ice: An Overview.
Chapter 2 From the Microscopic, to the Macroscopic, to the Regional Scale: Growth, Microstructure and Properties of Sea Ice.
Chapter 3 Dynamics versus Thermodynamics: The Sea Ice Thickness Distribution.
Chapter 4 Large Scale Characteristics and Variability of the Global Sea Ice Cover.
Chapter 5 Primary Production in Sea Ice.
Chapter 6 The Microbiology of Sea Ice.
Chapter 7 The Macrobiology of Sea Ice.
Chapter 8 Sea Ice: A Critical Habitat for Polar Marine Mammals and Birds.
Chapter 9 Biogeochemistry of Sea Ice.
Chapter 10 Particulate Flux From Sea Ice in Polar Waters.
Chapter 11 Palaeo Sea Ice Distribution – Reconstruction and Palaeoclimatic Significance.
Glossary.
Index
Reviews
"This very well presented book is a collection of papers describing some of the most valuable aspects of [sea ice] research. Sea Ice is a whole new frontier of opportunities for, among others the fisheries and aquaculture sectors. This excellent book provides considerable food for thought."
Fishing Boat World
"...this is a beautiful book, not only in its appearance, but in its organization, which provides current information on sea ice to those of us interested in global warming, biodiversity and extreme environments. Therefore Thomas and Dieckmann are to be commended for organizing and editing this timely book."
Biodiversity and Conservation 13, 2004

"The books editors... have collected the most significant contributions of a team of international experts offering to the readers a well edited and integrated volume surely till today and over, the most exhaustive about sea ice."
Polar News

"The book Sea Ice provides the scientific community with an excellent source of reference on the biology of sea ice from micro- to macroscale as well as on physical models, large-scale characteristics as derived from satellite observations, and paleo reconstructions."
Arctic Antarctic and Alpine Research
Features
* truly multidisciplinary approach
* world leading authors and editors
* international in scope, covering both Arctic and Antarctic work
* of vital interest to all those involved in global warming and climate change research
* Highly illustrated text with a bonus of 26 colour plates