Search Engine Optimization: An Hour a Day, 2nd Edition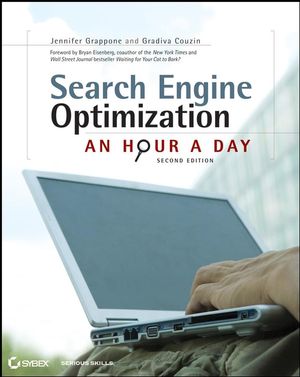 Search Engine Optimization: An Hour a Day, 2nd Edition
ISBN: 978-0-470-38211-0
Jun 2008
359 pages
Product not available for purchase
Description
Back and bracing as ever, Search Engine Optimization: An Hour a Day, Second Edition offers brisk advice, bite-sized tasks, and smart tools to help you increase visibility for your website on the major search engines. In this new edition of their bestselling how-to guide, SEO consultants Jennifer Grappone and Gradiva Couzin offer surprisingly easy do-it-yourself techniques as well as the very latest SEO strategies for small, very small, and large businesses, as well as for bloggers and web designers.
Introduction.
Part I Foundation.
Chapter 1 Clarify Your Goals.
Chapter 2 Customize Your Approach.
Chapter 3 Eternal Truths of SEO.
Chapter 4 How the Search Engines Work Right Now.
Part II Strategy.
Chapter 5 Get Your Team on Board.
Chapter 6 Your One-Month Prep: Baseline and Keywords.
Part III Your SEO Plan.
Chapter 7 Month One: Kick It into Gear.
Chapter 8 Month Two: Establish the Habit.
Chapter 9 Month Three: It's a Way of Life.
Chapter 10 Extra Credit and Guilt-Free Slacking.
Appendix.
Glossary.
Index.