Search Engine Optimization For Dummies®, 2nd Edition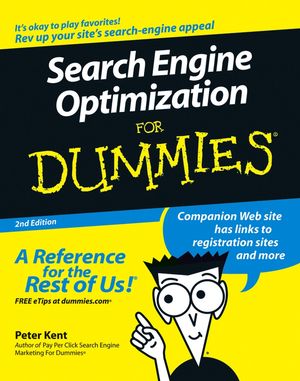 Search Engine Optimization For Dummies®, 2nd Edition
ISBN: 978-0-471-97998-2
May 2006
408 pages
Product not available for purchase
Description
You have a cool Web site, and a really great product, service, or cause you want people to know about. But visitors aren't beating down your cyber-door. What happened? The answer, most likely, is that you haven't made your site irresistible to search engines.

Search engines have a great deal of control over the volume of traffic a Web site gets, because they put your site in front of people searching for your product or service. If you know the secrets of wooing the search engines, you can
Gain greater visibility for your site
Advance your position in the rankings
Avoid techniques that cause search engines to bump your site to the end of the list
Make pay-per-click advertising pay off
In addition to the familiar ones like Google and Yahoo!, there are dozens of other search engines out there. Search Engine Optimization For Dummies, 2nd Edition shows you how to create a site that will pop to the top like a cork whenever people search for related products or services. It will help you
Become familiar with search engines and search directories and find out which keywords work
Build your site with techniques that search engines like and avoid the ones they don't
Register your site with the top search systems and get it listed in directories
Find out why links are important and see how to get other sites to link to yours
Work with Google AdWords and Yahoo! Search, and explore the best and most economical ways to use pay-per-click advertising
Discover the common mistakes that make Web sites invisible to search engines
There's even a companion Web site with all the links in the book neatly (and conveniently) arranged so you don't have to type them, plus a bonus chapter to help you power up your skills. Search Engine Optimization For Dummies, 2nd Edition has been updated with the latest information on search engines plus plenty of tips and tricks to help your site get the attention it deserves!
Introduction.
Part I: Search Engine Basics.
Chapter 1: Surveying the Search Engine Landscape.
Chapter 2: Your One-Hour Search-Engine-Friendly Web Site Makeover.
Chapter 3: Planning Your Search-Engine Strategy.
Chapter 4: Making Your Site Useful and Visible.
Part II: Building Search-Engine-Friendly Sites.
Chapter 5: Picking Powerful Keywords.
Chapter 6: Creating Pages That Search Engines Love.
Chapter 7: Avoiding Things That Search Engines Hate.
Chapter 8: Dirty Deeds, Done Dirt Cheap.
Chapter 9: Bulking Up Your Site — Competing with Content.
Part III: Adding Your Site to the Indexes and Directories.
Chapter 10: Finding Traffic via Geo-Targeting.
Chapter 11: Getting Your Pages into the Search Engines.
Chapter 12: Submitting to the Directories.
Chapter 13: Buried Treasure — More Great Places to Submit Your Site.
Part IV: After You've Submitted Your Site.
Chapter 14: Using Link Popularity to Boost Your Position.
Chapter 15: Finding Sites to Link to Yours.
Chapter 16: Using Shopping Directories and Retailers.
Chapter 17: Paying Per Click.
Part V: The Part of Tens.
Chapter 18: Ten-Plus Ways to Stay Updated.
Chapter 19: Ten Myths and Mistakes.
Chapter 20: Ten-Plus Useful Tools.
Appendix: Staying out of Copyright Jail.
Index.
"…cuts through the nonsense, providing a clear, simple and concise explanation of how websites reach top positions in search engines ..." (PC Advisor, September 2006)