Second Life®: The Official Guide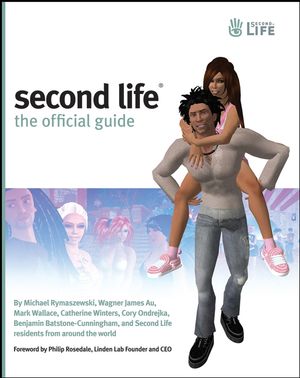 Second Life®: The Official Guide
ISBN: 978-0-470-09608-6
Dec 2006
352 pages
Product not available for purchase
Description
Second Life: The Official Guide is the perfect book for anyone interested in Linden Lab?s fascinating Second Life metaverse. This book explores in detail every aspect of Second Life?s rich and multilayered virtual world, explains how it works, and offers a wealth of information and practical advice for all Second Life residents. 

The first part of the book, ?Getting a Second Life,? acquaints potential and new players with the Second Life world. It describes the metaverse?s geography as well as its society, explaining the written and unwritten rules.

The second part, ?Living a Second Life,? deals with the practical and economic aspects of Second Life: creating and customizing an avatar, building objects, scripting, and making money.

The third part of the book, ?Success in Second Life,? discusses ways to enjoy Second Life more. This section includes profiles of successful Second Life residents, discusses fascinating in-world events, and examines how some are using Second Life for business, training, and other purposes.

The book closes with a glossary as well as quick-reference and additional-resources appendices.

The accompanying CD-ROM features special animations, character templates, and textures created by Linden Lab exclusively for this book. The disc also guides new users through installation and includes a code that grants a special object their first time entering the metaverse.
Foreword.
Dedication and Acknowledgments.
About the Authors.
Introduction.
Part I: Getting a Second Life.
Chapter 1: What Is Second Life.
Chapter 2: Getting Started.
Chapter 3: The Grand Tour.
Part II: Living a Second Life.
Chapter 4: Changing Your Appearance.
Chapter 5: Using Your Library.
Chapter 6: Managing Your Inventory.
Chapter 7: Building.
Chapter 8: Using the Linden Scripting Language.
Part III: Success in Second Life.
Chapter 9: Whao Are You?
Chapter 10: Making Money.
Chapter 11: Real Residents.
Chapter 12: A Cultural Timeline.
Chapter 13: The Future and Impact of Second Life.
Appendices.
Appendix A: Real-Life Education in Second Life.
Appendix B: Glossary.
Appendix C: Additional Resources.
Appendix D: Menu Commands and Functions.
Although not a game in the strictest sense of the word, the increasingly popular virtual world of Second Life shares many commonalities with online gaming environments. Libraries interested in Second Life Library 2.0 (http://infoisland.org) and those serving populations active in virtual environments should pick up a copy of this official, thorough full-color guide. The book walks beginners through getting started in
Second Life
and customizing their avatars; tells them where to go, what to see, and how to define their virtual existence; and ends with a discussion of the future and impact of
Second Life
. Its CD contains textures, templates, Avimator animation software, sample animations, videos, and a code for exclusive in-world content. Recommended. (
Library Journal
, January 15, 2007)
"…an excellent job of talking through the history of second life…" (Trusted Reviews, November 2006)
Chapter
Page
Details
Date
Print Run
267
Text Correction
The Conventioneers section: Please add (and others) after team in the first line (so it reads When the real-life husband-and-wife team (and others) first approached....

---

297
Text Correction: The Second Life Community Convention sidebar
In addition to FlipperPA and Jennyfur Peregrine, the following individuals also helped launch the SLCC: Hiro Pendragon, Valadeza Anubis, and SNOOPYbrown Zamboni, with Jeska Linden serving as the liaison between Linden Lab and the SLCC organizers.

---