Second Life For Dummies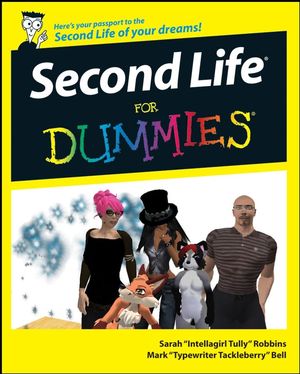 Second Life For Dummies
ISBN: 978-1-118-05196-2
Apr 2011
336 pages
Description
You've heard all about Second Life. Maybe you've already jumped with both feet—and gotten stuck. Or maybe you're a Second Life veteran who wants to build something or run a business. Fear not! Second Life For Dummies is hear to hold your hand, pat your back, and cheer you on through this new and enchanting reality.

Written by a pair of Second Life old timers, this easy-to-use, flip-and-find guide is packed with expert advice, seasoned insight, and handy tips and tricks to get you moving fast. You'll find out how to set up your account, create an avatar, meet people and socialize, and find your comfort zone and stay in it. But it's a big world out there, so you'll also learn how to make stuff, buy stuff, do stuff, and keep track of all the stuff you're accumulating. Discover how to
Install Second Life get started
Create and customize your avatar
Meet and get to know fascinating people
Stay safe and comfortable as you learn and explore
Make, wear, and sell your own fashions
Script your Second Life
Buy land and build a house
Become a land baron or a money maker
Make real money in Second Life
Get a real-life education—even a degree
Complete with fantastic lists of cool places, answers to big questions, and supplemental software, Second Life For Dummies is your ticket to a great virtual adventure.
Introduction.
Part I: Second Life Overview and Basics.
Chapter 1: The Meaning of (Second) Life.
Chapter 2: Tweaking Your System: Adjusting Your Computer to Best Run Second Life.
Chapter 3: Starting Your Second Life.
Chapter 4: Navigating the Second Life Interface and World.
Part II: Living Your Second Life – Exploring and Socializing.
Chapter 5: Creating Your Second Life Persona.
Chapter 6: Jumping into the Conversation: Express Yourself.
Chapter 7: Getting a Social Second Life.
Chapter 8: Staying in Your Second Life Comfort Zone.
Part III: Inventory, Cash, and Land.
Chapter 9: Becoming Materialistic with Your Second Life Inventory.
Chapter 10: Understanding the Second Life Economy.
Chapter 11: Spending Your Cash in Second Life.
Chapter 12: Staking Your Claim in Second .
Part IV: Building and Customizing.
Chapter 13: Building Basics.
Chapter 14: Taking Your Building Skills to the Next Level.
Chapter 15: The Clothes Make the Avatar: Creating Your Own Clothing.
Chapter 16: Making a Statement with Poses, Animations, and Gestures.
Part V: Real Life Opportunities in Second Life.
17: Getting Paid in Second Life (It's Not Easy).
Chapter 18: Bringing Big Business to Second Life.
Chapter 19: Education in Second Life.
Part VI: The Part of Tens.
Chapter 20: Ten (Or So) Great Places to Shop.
Chapter 21: Ten Great Places to Visit.
Index.