Second Manifesto for Philosophy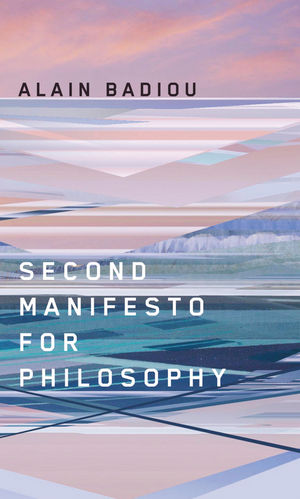 Second Manifesto for Philosophy
ISBN: 978-0-745-64862-0 January 2011 Polity 176 Pages
Download Product Flyer
Download Product Flyer
Download Product Flyer is to download PDF in new tab. This is a dummy description. Download Product Flyer is to download PDF in new tab. This is a dummy description. Download Product Flyer is to download PDF in new tab. This is a dummy description. Download Product Flyer is to download PDF in new tab. This is a dummy description.
Description
Twenty years ago, Alain Badiou's first Manifesto for Philosophy rose up against the all-pervasive proclamation of the "end" of philosophy. In lieu of this problematic of the end, he put forward the watchword: "one more step".
The situation has considerably changed since then. Philosophy was threatened with obliteration at the time, whereas today it finds itself under threat for the diametrically opposed reason: it is endowed with an excessive, artificial existence. "Philosophy" is everywhere. It serves as a trademark for various media pundits. It livens up cafés and health clubs. It has its magazines and its gurus. It is universally called upon, by everything from banks to major state commissions, to pronounce on ethics, law and duty. In essence, "philosophy" has now come to stand for nothing other than its most ancient enemy: conservative ethics.
Badiou's second manifesto therefore seeks to demoralize philosophy and to separate it from all those "philosophies" that are as servile as they are ubiquitous. It demonstrates the power of certain eternal truths to illuminate action and, as such, to transport philosophy far beyond the figure of "the human" and its "rights". There, well beyond all moralism, in the clear expanse of the idea, life becomes something radically other than survival.
Table of contents
Editor's Preface.
Alain Badiou.
Thinking the Event.
Thesis 1: Thought is the proper medium of the universal.
Thesis 2: Every universal is singular, or is a singularity.
Thesis 3: Every universal originates in an event, and the event is intransitive to the particularity of the situation.
Thesis 4: A universal initially presents itself as a decision about an undecidable.
Thesis 5: The universal has an implicative form.
Thesis 6: The universal is univocal.
Thesis 7: Every universal singularity remains incompletable or open.
Thesis 8: Universality is nothing other than the faithful construction of an infinite generic multiple.
Slavoj Zizek.
'Philosophy is not a dialogue'.
Discussion.
Reviews
Badiou remains perhaps the most important philosopher at work in France today. Highly recommended."
Choice
"With his characteristic taste for polemic, economy of expression and relentless cheerfulness, Badiou offers a loud counterblast against contemporary scientism and sophism. Against what he sees as the democratic materialism of the age, Badiou pits a materialist dialectic at the service of the Idea. The second manifesto is invigorating reading."
Simon Critchley, New School for Social Research
"Badiou's Second Manifesto for Philosophy makes a lucid and compelling demand for philosophy to return from media distraction to its genuine calling. Opposing all moralizing acquiescence in an intolerable global status quo, Badiou reminds us that philosophical thought is, in essence, a quest for universality. The thinker's task is to make sense of truths whose upsurge and impact cuts across space and time. In this sense, far from toying with relativism, the philosopher must be committed to the disciplined work of soldering together separated worlds."
Peter Dews, University of Essex
Features
• The book is written as a defence of philosophy - or, as Badiou puts it, 'a philosophical declaration of the existence of philosophy at a particular point in time.'
• The text is organized around a set of concepts through which he seeks to do this: opinion, appearance, differentiation, existence, mutation, incorporation, subjectivation, ideation.
• Badiou is very much 'flavour of the month' among French philosophers.
• This will appeal to students and academics in philosophy and critical cultural theory.