Secrets of Swiss Banking: An Owner's Manual to Quietly Building a Fortune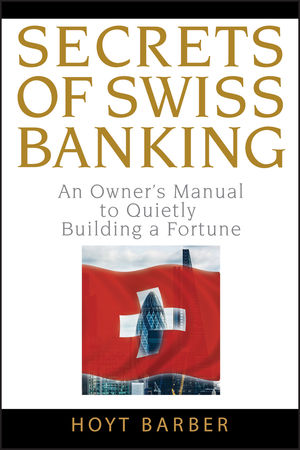 Secrets of Swiss Banking: An Owner's Manual to Quietly Building a Fortune
ISBN: 978-0-470-13671-3
Feb 2008
288 pages
Description
In Secrets of Swiss Banking, offshore financial specialist Hoyt Barber shows how to protect your hard-earned assets by safely and legally moving your money into trusted Swiss financial institutions. Along with timely banking advice and solid investment insights, Barber provides authoritative information on a variety of Swiss banking-related issues—from the basics of opening an account to the nuances of numerous Swiss banking and investment strategies. He also details Swiss banking policies and regulations along with U.S. tax and reporting requirements.
Preface.
Chapter 1. The Challenges And Threats.
The Economic Front.
The Political Landscape.
The Un-Patriotic Act.
The New America.
Personal Sovereignty and the Urgency to Act.
Chapter 2. Switzerland—Alpine Financial Oasis.
Roots of Political and Monetary Stability.
The Swiss People Reject the European Union.
Armadillo-Tough Asset Protection.
Twin Democratic Republics.
Bankers to the World.
Bank Secrecy in a World of Transparency.
Cloak and Dagger.
The Swiss Franc.
Chapter 3. Where to Begin.
Opening a Swiss Bank Account.
Types of Swiss Banks.
How to Select a Swiss Bank.
Types of Swiss Bank Accounts.
Other Swiss Banking Facilities.
Opening Your Swiss Bank Account.
Online Banking.
Written Instructions to Your Bank
The Perfectly Legal Secret Account.
Tax Evasion or Tax Fraud?
Worried About an Audit?
Chapter 4. Investing Through Your Swiss Bank.
Stocks and Bonds.
Swiss Bank Bonds.
Forward Contracts or Futures, and Margin Accounts.
Precious Metals.
Foreign Currencies.
Commodities.
Warrants and Options.
Mutual Funds / ETF's.
Real Estate Unit Trusts.
Real Estate.
Chapter 5. Banking Policies and Regulations.
The Swiss Regulators.
Financial Actions Task Force (FATF).
Money Laundering.
Qualified Intermediaries (QI's).
U.S. Taxpayer Requirements.
Structuring.
Tax Treaties.
Your Own Private Monetary Policy.
Chapter 6. The Ultimate Investment Plan.
The Secrecy Factor.
Investment Safety.
World's Best Asset Protection.
Swiss Legal Proceedings.
The Swiss Franc.
U. S. Tax and Reporting Requirements.
Tax-Deferred Earnings.
The 1035 Tax-Free Exchange
Swiss Taxes.
Compound Earnings and Interest.
The Swiss Portfolio Bond.
The Swiss Annuity.
Swiss Life Insurance.
Blacked-Out, Forbidden and Little-Known Investment Opportunities.
Chapter 7. Alpine Retreat For Business And Pleasure.
Business Practices.
Travel.
Tax-Advantaged Residency.
Immigration.
Swiss Real Estate.
Swiss Real Estate Investment Companies.
The Swiss Company.
Doing Business in Switzerland.
Back Door to Switzerland
Chapter 8. The Best Alternatives To Switzerland.
The T-7 Tax Havens.
Liechtenstein.
Andorra.
Austria.
Panama.
Belize.
Saint Kitts and Nevise.
Tax Information Exchange Agreement.
Mutual Legal Assistance Treaty.
Appendix A. Swiss Banks.
Appendix B. Other Swiss Service Companies.
Swiss Insurance Companies.
Swiss Investment Counselors/Insurance Brokers.
Swiss Brokerage Firms.
Swiss Investment Services.
Swiss Physical Storage Facilities (Non-Bank Related).
Swiss and Other Organizations.
Appendix C. Resources.
Tax Information.
Expatriating/Overseas Retirement/Offshore Investing.
World Bank Resources.
Important Swiss Contacts.
Barber Financial Advisors.
Offshore Evaluation Service.
Appendix D. Suggested Reading.
Books on Banking and Investing.
Books on Economics, Investments and Others of Interest.
About the Author.
Index.