Securing the Future, Volume 1: Building Your Firm's Succession Plan, 2nd Edition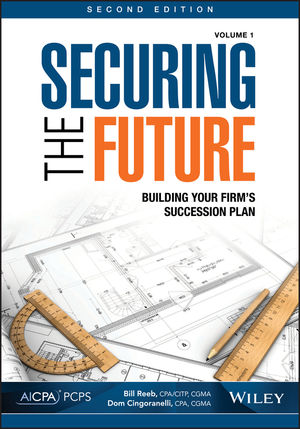 Securing the Future, Volume 1: Building Your Firm's Succession Plan, 2nd Edition
ISBN: 978-1-940-23558-5
Nov 2016
176 pages
Description
Is your firm poised for long-term success and viability? Do you even know what that looks like for your firm?
The reality is that most CPA firms have their work cut out for them if they want exiting partners to retire comfortably and future leaders to flourish. In the new edition of this popular book and its companion workbook, Reeb and Cingoranelli impart the same no-nonsense advice on succession planning and management that they share with their clients, providing you with the benefits of their years of experience, research, and methodologies.
Volume 1 covers fundamental succession and management concepts to ensure that every partner and manager is on the same page and working toward a shared vision. After reading this book you will be able to:
Take steps to maximize your firm's value
Shore up your business strategy and operations
Remove personal preferences and entitlements from partner discussions
Build a strong partner group
Ensure your firm survives the departure of key people by creating or improving your succession plan, and more!
1 Why Now? 1
Why Does This Matter, and Why Now? 1
Why CPAs Don't Develop Successors As They Should 4
Crisis Succession Planning 5
Orderly Succession Planning 6
Component Parts of an Orderly Succession Plan 7
Chapter 2—Start With Strategy 7
Chapter 3—Clean Up Your Operations 7
Chapter 4—Identify and Describe Your Business Model 8
Chapter 5—Examine Retirement Benefits 9
Chapter 6—Describe Governance, Roles, and Responsibilities 10
Chapter 7—Establish Voting Rights, DecisionMaking, and Equity Distribution or Redistribution 10
Chapter 8—Define theManaging Partner Role 10
Chapter 9—Build Capacity for Long-Term Sustainability 11
Chapter 10—Transition Client and Referral Relationships 11
Chapter 11—Describe the Admission to Ownership and Development Process 11
Chapter 12—Build a Strong Partner Group 11
Chapter 13—Establish Processes and Procedures for Retired Partners Still Working for the Firm 12
Chapter 14—Define the Maximum Payout Process and Other Buyout-Related Issues 12
Chapter 15—Create a Partner Accountability and Compensation Plan 12
Chapter 16—Address Death and Disability in Your Buy-Sell and Retirement Policies 13
In Conclusion 13
2 Start With Strategy 15
Strategy Should Drive the Rest of Your Decisions 15
Thinking Strategically 16
Strategic Planning Overview 17
Getting Started 17
Core Philosophy 18
Long-Term Vision 18
Strategies, Action Plans, and Metrics 20
Some Typical Strategic Initiatives 21
PartnerAccountability and Compensation 21
Attracting, Retaining, and Developing People 21
Growth, Business Development, and Client Retention 22
2 Start With Strategy—continued Infrastructure, Consistency, and Efficiency 22
Improved Communication and Transparency 22
In Conclusion 23
3 Clean Up Your Operations 25
Get the Basics Right 25
Information Systems and Performance Metrics 26
Performance Metrics 26
Strategies for Improvement That Will Yield High Return on Investment 29
Create Capacity at the Top 29
Improve Your Overall Profit Stream 32
Charge Clients a Fair Fee 33
Manage Through the Trough 36
In Conclusion 36
4 Identify and Describe Your Business Model 39
Eat What You Kill Versus Building a Village 39
The Problem With Replacing the Superstar 42
Modes of Operation Within the EWYK and BAV Models 43
Survival Mode 44
Safety Net Mode 44
Success Mode 44
Continuation Mode 45
TheMost Commonly Found Disconnect 46
Modes of Operation Summary 46
Important Distinctions Between the EWYK and BAV Models 47
In Conclusion 49
5 Examine Retirement Benefits 51
The Nuances of a Fair Retirement Benefit 51
Determining the Value 52
Other Issues to Consider 53
Mandatory Sale of Ownership 54
The Importance of Vesting 56
Actions That Should Negatively Affect Value 59
In Conclusion 60
6 Describe Governance, Roles, and Responsibilities 61
Creating Accountability 61
Enabler One: Decision-MakingAuthority 62
The Problem 62
The Solution 63
Enabler Two: Standard Operating Procedures Foundation 63
6 Describe Governance, Roles, and Responsibilities—continued Enablers and Synergy 64
Enablers and Firm Size 66
Enablers in Firms of Up to $2Million to $3Million 66
Enablers in $3Million to $10Million Firms 67
Enablers in Firms in Excess of $10Million Dollars 69
Decision-MakingAuthority 70
Voting Control Properties 70
Organization Infrastructure Properties 70
SOP Infrastructure Properties 71
Administrative Policies 71
Accountability Policies 72
Processes 73
Avoiding Common Traps 73
In Conclusion 74
7 Establish Voting Rights, Decision Making, and Equity Distribution or Redistribution 75
Voting and Decision Making 75
To Vote or Not to Vote: That Is the Question 75
Formal or Informal Votes 76
Types of Votes 77
Equity Ownership andWhy ItMatters 78
Equity Reallocation 78
Equity Allocation and Reallocation:What,Why, and How 78
Determining EquityAllocations 83
In Conclusion 86
8 Define the Managing Partner Role 87
Defining the Managing Partner's Role 87
Why the Managing Partner Is the One ChargedWith Implementation and Accountability 89
Electing and Dismissing the Managing Partner 92
The Term of the Managing Partner 93
Firing the Managing Partner 94
The Managing Partner Compensation System 95
In Conclusion 95
9 Build Capacity for Long-Term Sustainability 97
The Importance of Building Capacity Through Your People 97
Developing Real People-Management Skills 98
Learning How to Develop PeopleMore Quickly 99
Motivating Your People 100
Culture and People Development 101
9 Build Capacity for Long-Term Sustainability—continued Competencies Form the Foundation 101
Examples of Some Competency Definitions 103
People Development in Three Steps 104
Setting People Up for Success Through Clear Expectations 104
The Effect of Your Expectations on Others' Performance 107
Values Matter 108
Reporting Models 108
In Conclusion 109
10 Transition Client and Referral Relationships 111
Why You Need Solid Transitioning 111
Benefits of Proper Transitioning 112
A Transitioning Process 113
Penalties for Not Transitioning 115
Referral Sources 116
Sample Transitioning Plans 116
Transition Compensation Plan 117
In Conclusion 118
11 Describe theAdmission to Ownership and Development Process 119
Who Should Become Owners in Your Firm? 119
Career Paths for Prospective Owners 120
New PartnerAdmission 121
Admission to Equity Ownership 122
Nurturing New Partners 122
Dead Weight 123
In Conclusion 124
12 Build a Strong Partner Group 127
Turnover Basics 127
Cranking the Vise 127
Terminating a Partner 128
Leaving and Going to Work in Industry 129
Leaving and Competing 130
Other Issues 131
Employment Agreements 131
Total Loss of Retirement Benefits 131
Terminations for Cause 131
Severance Packages 132
In Conclusion 132
13 Establish Processes and Procedures for Retired Partners Still Working for the Firm 133
Continuing to Work After Sale of Ownership 133
Boundaries Are Necessary 133
13 Establish Processes and Procedures for Retired Partners Still Working for the Firm—continued Annual Contracts 135
Retired Partner Employee Compensation 136
In Conclusion 137
14 Define the Maximum Payout Process and Other Buyout-Related Issues 139
Personal Liability of Remaining Owners for Retired Owners' Full Payout 139
Specific Recourse or Cures Should a Retired Owner Not Be Paid in Full 140
Sale orMerger of a Practice 140
Ability of Retired Owners to Block Mergers or Total Sale of the Business
Unless Retirement Obligation Is Paid in Full Prior to Transaction 141
Ability of Retired Owners to Block the Sale of a Line of Business Unless Retirement Obligation Is Paid in Full Prior to Transaction 142
Partially Funded Retirement Plans 142
Maximum Payout Provision 143
Purchase Price of Other Companies and Real Estate 143
In Conclusion 144
15 Create a Partner Accountability and Compensation Plan 145
Accountability: It Should Apply to Everyone 145
Setting Clear Expectations to Create Accountability 146
Commitment to Results 147
Delegation or Dumping? 147
Revisiting the Notion of Accountability 147
Accountability for Partners 148
Accountability Requires Action and Commitment 149
Accountability and Performance Variability 150
Objective Performance Criteria 150
Subjective Performance Criteria 151
Establishing the Accountability Process 151
Benefits of Implementing the Accountability Process 152
Who's in Charge? 153
Performance Pay for the Managing Partner's Allocation 155
In Conclusion 156
16 Address Death and Disability in Your Buy-Sell and Retirement Policies 157
Now Is the Time 157
Policies Dealing With the Death of a Partner 157
Policies Dealing With Disability 159
Policies Dealing With Partial Disability 159
In Conclusion 160
Conclusion 161