Securing the Network from Malicious Code: A Complete Guide to Defending Against Viruses, Worms, and Trojans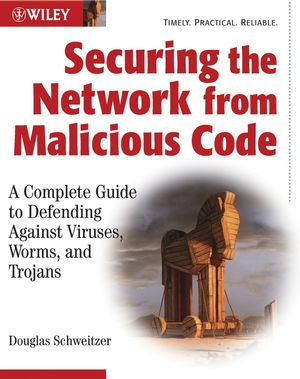 Securing the Network from Malicious Code: A Complete Guide to Defending Against Viruses, Worms, and Trojans
ISBN: 978-0-764-54958-8
Oct 2002
360 pages
Product not available for purchase
Description
Cover procedures and practices for everything from social engineering to effectively configuring an intrusion detection system.
* Author provides the benefit of his day-to-day practices as a security expert.
* Companion Website features several non-shareware products for effectively defending against malicious code.
Acknowledgments.

Introduction.

Part I: Threat Analysis.

Chapter 1: Threats Posed by Viruses, Worms, and Trojan Horses.

Chapter 2: Virus Writers and Hackers: Architects of Digital Disease.

Chapter 3: Other Digital Threats to Your Organization.

Chapter 4: Types of Viruses, Trojan Horses, and Malicious Code.

Part II: Applied Tactics for Malicious Code Defense.

Chapter 5: Fundamentals Needed for Digital Security.

Chapter 6: Networking and Internet Essentials.

Chapter 7: Internet Relay Chat (IRC), I-Seek-You (ICQ), Web Page Chat, and Instant Messaging.

Chapter 8: Defending Your Company's Network Using Human Resources.

Chapter 9: Hardware and Software Protective Measures.

Chapter 10: Server-Side Exploits.

Part III: Looking Ahead.

Chapter 11: Cyberterrorism and Hacktivism-New Millennium, New Threats.

Chapter 12: Cyberforensics and the Future of Virus Warfare.

Appendix A: What's on the Web Site.

Appendix B: Cybercrime before Congress.

Appendix C: It's Not Just Fun and "War Games"-Juveniles and Computer Crime.

Appendix D: National Infrastructure Protection Center Statement on Cybersecurity

Appendix E: National Infrastructure Protection Center Statement on Cybercrime.

Appendix F: Glossary-Worm Words and Virus Vocabulary.

Index.