Securities Fraud: Detection, Prevention, and Control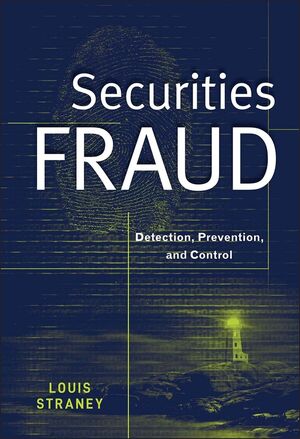 Securities Fraud: Detection, Prevention, and Control
ISBN: 978-0-470-91859-3 October 2010 208 Pages
Description
The first complete, expert guide to securities and investment fraud
Filled with expert guidance for detection and prevention of all kinds of securities fraud and investment misconduct, Securities Fraud helps you identify red flags of fraud and offers practical ways to detect and prevent it. Written by a Wall Street professional with three decades of experience spanning the most critical period of our financial markets This book challenges classic fraud theories, describing how to dismantle information silos that permit fraudsters to conceal their activities.
Begins with an overview of the evolution of securities regulation and the impact of securities fraud
Offers real cases and examples which illustrate recurring themes and red flags
Provides the first guide of its kind to offer a complete look at the various kinds of securities fraud and investment misconduct
Securities Fraud is the essential guide you need for a bird's-eye view of fraud that may be taking place even now within your own organization and with your portfolio.
Preface.
Introduction.
Chapter 1 The Face of War.
Cost of Defeat.
Drawn and Quartered.
Art and Fog of War.
Origins.
Human Capital.
Notes.
Chapter 2 Shared Interests.
Trade Secrets.
Shared Interests.
Nation of Farmers.
Statutory Foundations.
Notes.
Chapter 3 The Eleven.
Notes.
Chapter 4 Funding and Fraud.
It Really Doesn't Matter.
Securities? No. Securities Fraud? Yes!
Montgomery to Manhattan.
Promises, Promises.
A Rotten Compromise.
Common Stock – Uncommon Results.
Read the Label.
Financial Pergatory.
An Evil Equation.
Transition to Victimization.
Notes.
Chapter 5 Command and Control (C2).
Absolutologist.
By the Numbers.
It Starts at the Top.
Carlo "Charles" Ponzi.
Robert Vesco.
Robert E. Brennan.
Michael de Guzman et al.
Bernard L. Madoff.
Notes.
Chapter 6 Paid To Steal.
At All Costs - Protect the Brand.
Michael Holoday.
Nick Leeson.
Michael Milken.
Robert L. Citron.
Yanming.
Notes.
Chapter 7 Outside Inside.
Investor Fraud.
Anthony "Tino" De Angelis.
Ivan Boesky.
G. Foster Winans.
Martha Stewart and Sam Waksal.
Notes.
Chapter 8 Misunderestimated.
Advisor Fraud.
Patterns.
Jordan Belfort – Robert Brennan Incarnate.
Frank Gruttadauria.
Martin Frankel (or one of 12 other aliases).
Captain Money - J. David Dominelli.
Eric Bartoli (aka Enrico Orlandini).
Retrospective.
Notes.
Chapter 9 Days of Future Past.
Dystopian Future.
Rating Agencies.
Trevor Cook (Oxford Global Partners).
Patricia Cornwell v. Anchin, Block & Anchin.
Derivatives.
Huang Guangyu.
Galleon Group Hedge Fund.
Jerome Kerviel.
Kenneth Lewis.
Semion Mogilevich.
Sean David Morton.
Rebecca Parrett.
Goldman Sachs.
Marcus Schrenker.
R. Allen Stanford.
Structured Products.
Weizhen Tang.
Douglas F. Vaughan.
Dystopian Past.
In Their Own Words.
Lance Poulsen.
Richard Scrushy.
Chapter 10 The Warrior's Path.
The Endless Struggle.
Appendix A Frequently Used Abbreviations.
About the Author.
Index.