Security+ Prep Guide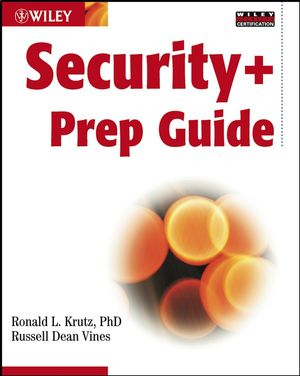 Security+ Prep Guide
ISBN: 978-0-764-52599-5
Feb 2003
480 pages
Product not available for purchase
Description
* A complete study guide for the new Security+ certification exam, providing objective coverage, definitions, and sample test questions
* Security+ certification has been endorsed by Microsoft, IBM, Verisign, the Secret Service, and the FBI, and is expected to become a prerequisite for many vendor-specific certifications
* Written by the authors of the bestselling The CISSP Prep Guide (0-471-41356-9) and organized in the same user-focused format
* CD-ROM includes the Boson test engine, packed with review questions to prepare for the Security+ certification exam
Acknowledgments.
Introduction.
Chapter 1: General Security Concepts.
Chapter 2: Communication Security.
Chapter 3: Infrastructure Security.
Chapter 4: Basics of Cryptography.
Chapter 5: Operational/Organizational Security.
Appendix A: Answers to Sample Questions.
Appendix B: Glossary of Terms and Acronyms.
Appendix C: Common Internet Vulnerabilities.
Appendix D: NMap Log.
Appendix E: What's on the CD-ROM?
Index.
"…designed to offer a comprehensive reference and 'one stop source' for those studying the security + certification examination…" (Computer Law and Security Report, November 03)
Chapter
Page
Details
Date
Print Run
CD ID#198
CD Question ID#198
Question: What is the block length of the Rijndael Cipher? Answer 1: 64 bits Answer 2: 128 bits Answer 3: Variable Answer 4: 256 bits Explanation: The answers with fixed numbers are incorrect. Errata: The answer to this question states that the block length of the Rijndael Cipher is variable. The correct answer should be that the block length is 128 bits and the key size is variable
4/8/04

---