Security Analysis and Investment Strategy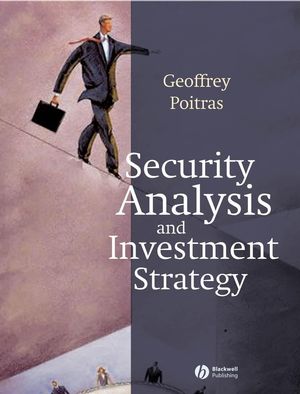 Security Analysis and Investment Strategy
ISBN: 978-1-405-11248-2
Dec 2004
680 pages
Description
This innovative text presents the theoretical foundations of security analysis and investment strategy, and explores the practical applications of these theories. After establishing an historical foundation, the book examines fixed income securities, equity analysis and investment strategy.



Assesses a range of approaches to investment analysis and strategy

Develops an advanced treatment of the subject throughout, while remaining focused on the practical concerns of security analysts

Features end-of-chapter questions, case studies and references

Integrates history, theory, technique, and application
This text is an indispensable resource for any serious student of finance.

Online material to accompany this book can be found at www.blackwellpublishing.com/poitras
Detailed Contents.
List of Figures.
List of Tables.
Notes for Instructors.
Preface.
Acknowledgments..
Part 1. Philosophy, History and Core Theory.
The Philosophy of Investment.
The History of Security Analysis.
Theoretical Developments in Modern Finance..
Part 2. Fixed Income Valuation.
Basics of Fixed Income Valuation.
Convexity, Time Value and Immunization.
Bonds with Embedded Options..
Part 3. Equity Valuation and Investment Strategy.
Fundamental Analysis and Value Investing.
Valuation Techniques for Equity Securities.
Technical Analysis Demystified.
Investment Strategy.
References.
Index.
"What sets Poitras' book apart is not only the comprehensive and rigorous treatment of the subject of investments and security analysis but also the way in which he cradles it in its philosophy, history and core theory. I strongly recommend this text for those serious enough to seek an advanced study of the field."
Andrew Karolyi,
OhioStateUniversity
"Poitras's new investments textbook is a tour de force. Unlike most investments texts it breaks new ground in putting 'modern' finance into perspective and linking what we as academics think we know with the views on the street. In this it develops those most elusive commodities: wisdom and judgment." Lawrence Booth, Rotman School of Managment, University of Toronto


Presents the theoretical foundations of security analysis

Assesses a range of approaches to investment analysis and strategy

Features end-of-chapter questions, case studies, and references

Integrates history, theory, technique, and application