Security Analysis on Wall Street: A Comprehensive Guide to Today's Valuation Methods, University Edition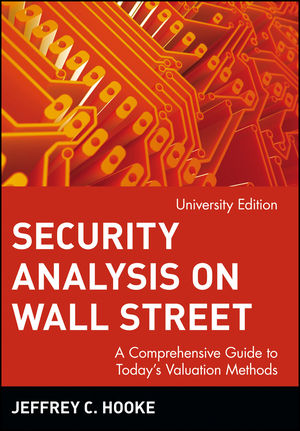 Security Analysis on Wall Street: A Comprehensive Guide to Today's Valuation Methods, University Edition
ISBN: 978-0-471-36247-0
Sep 1999
512 pages
Description
Security Analysis on Wall Street The principles of investing have always been simple: buy low, sell high. The information needed to make these potentially lucrative decisions, however, is often hard to find, difficult to decipher, and not always reliable. This authoritative new book is the essential reference for students who want to learn the rational, rigorous analysis that is still the most successful way to evaluate securities. Security Analysis on Wall Street explains how the values of common stocks are really determined in today's marketplace and takes a comprehensive look at the entire security evaluation process, as well as the major valuation techniques currently being used by Wall Street professionals. Beginning with an overview of the environment in which stocks are issued, researched, bought, and sold, Hooke examines the roles of the various players, the rules of the markets, and the activities surrounding initial public offerings. He then probes the intricacies of analyzing and reporting on securities with proven methods for evaluating the merits of a stock. This sophisticated yet straightforward system teaches students how to assess profitable firms; understand marginal performers, leveraged buyouts, and corporate takeovers; and-most importantly-to break down different analyses and get the big answers: Is the security fairly valued, and why or why not? "A welcome successor to Graham and Dodd's Security Analysis." -Barron's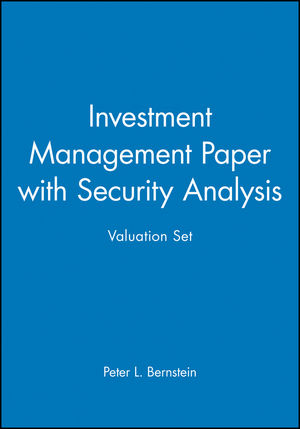 Original Price:$310.00
Purchased Together:$270.00
save $40.00
Introduction

Part I The Investing Environment

1 Why Analyze a Security?

2 Who Is Practicing Security Analysis?

3 Seeking a Level Playing Field

4 Other Sources of Information

Part II Performing the Analysis and Writing the Research Report

5 Starting the Analysis

6 Industry Analysis

7 Company-Specific Analysis

8 Financial Statement Analysis of an Established Business

9 The Limitations of Accounting Data

10 Financial Analysis and Stock Characterization

11 Financial Projection Pointers

Part III Valuation and the Investment Decision

12 Modern Approaches to Valuation

13 The Relative Value Approach

14 Valuing Marginal Performers

15 The Mergers and Acquisitions Market, Leveraged Buyouts, and Takeovers

16 Breakup Analysis

17 Recommended Investment Decision

Part IV Special Cases

18 Cash Flow Stocks

19 Natural Resource Stocks

20 Financial Industry Stocks

21 Insurance Companies

22 Highly Speculative Stocks

23 Distressed Securities and Turnarounds

24 International Stocks

25 Emerging Markets: The Final Frontier

Part V Summary

26 Closing Thoughts on Security Analysis

Index
Describes the five major valuation techniques now in use, emphasizing the differences between academic abstraction and the nitty-gritty of actual securities trading.
Provides detailed coverage of special situations such as distressed securities, unusual industries, and foreign securities.
As updated for the college market, the book includes questions in each chapter, inviting students to test their knowledge level as they work through the book.
Answers to end-of-chapter questions are available to professors online for instructional, quiz, and testing purposes.