Security and Site Design: A Landscape Architectural Approach to Analysis, Assessment and Design Implementation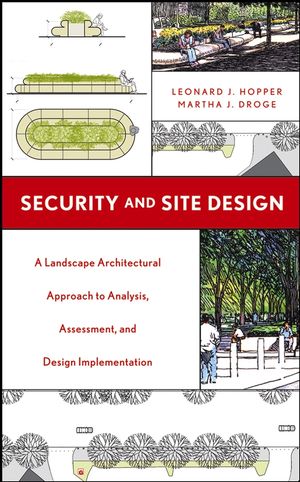 Security and Site Design: A Landscape Architectural Approach to Analysis, Assessment and Design Implementation
ISBN: 978-0-471-65583-1
Mar 2005
208 pages
Description
Written for the design professional, this book offers basic concepts for site security design and risk/threat assessment, and their relationship and integration into the overall design/streetscape projects.
* This book is the only reference to offer coverage of security design for the site, rather than for the building
* It provides landscape architects and other design professionals with the fundamental knowledge they need in order to work with clients and security consultants
* It includes guidelines for conducting security/risk assessments as well as case studies that offer a variety of site designs that successfully integrate security
CHAPTER
1:
Security Site Design.
HISTORY.
CONTEXT IN TODAY'S SECURITY-CONSCIOUS ENVIRONMENT.
ISSUES.
DAWN OF A NEW SITE ERA.
THE GOAL OF GOOD SECURITY DESIGN.
CHAPTER 2: A Framework for Understanding Site Security.
THE BASICS: PROFESSIONAL RESPONSIBILITIES.
UNDERSTANDING THE RANGE OF THREATS.
UNDERSTANDING VIOLENT CRIME FROM EXTERNAL SOURCES.
PATTERNS OF PLANNED TERRORIST ATTACKS.
CHAPTER 3: Site Security Design Concepts.
SITE SURVEY.
THREAT ANALYSIS.
SITE SECURITY COUNTERMEASURES.
RISK MANAGEMENT.
DESIGNING WITH PERFORMANCE STANDARDS.
SUMMARY: TOWARD EFFECTIVE AND FLEXIBLE SECURITY STANDARDS.
CHAPTER 4: Case Studies.
URBAN STREETSCAPES: SOUTHWEST FEDERAL CENTER, WASHINGTON, D.C.
MONUMENTS AND MEMORIALS: WASHINGTON MONUMENT, LINCOLN MEMORIAL, AND JEFFERSON MEMORIAL.
SYMBOLICALLY IMPORTANT VIEWS, BUILDINGS, AND GATHERING AREAS: PENNSYLVANIA AVENUE AT THE WHITE HOUSE.
SYMBOLICALLY IMPORTANT VIEWS, BUILDINGS, AND GATHERING AREAS: CITY HALL PARK, NEW YORK CITY.
LOCAL GOVERNMENT: CALIFORNIA STATE HOUSE, SACRAMENTO.
OFFICE BUILDINGS AND PUBLIC SPACE: SITE SECURITY DESIGN AND COLLABORATIVE MANAGEMENT, RONALD REAGAN/INTERNATIONAL TRADE CENTER BUILDING, WASHINGTON, D.C.
PROGRAMMING AND PUBLIC–PRIVATE COLLABORATION IN SITE SECURITY: THE HANLEY FEDERAL BUILDING AND U.S. COURTHOUSE, SYRACUSE, NEW YORK.
CHAPTER 5: Conclusion.
TRADITIONAL BARRIERS.
IMPROVED SITE AMENITIES.
NEED FOR IMPACT STANDARDS.
COHESIVENESS OF SECURITY MEASURES.
THE FUTURE OF SECURITY AND SITE DESIGN.
EPILOGUE.
INDEX.