Selective Forex Trading: How to Achieve Over 100 Trades in a Row Without a Loss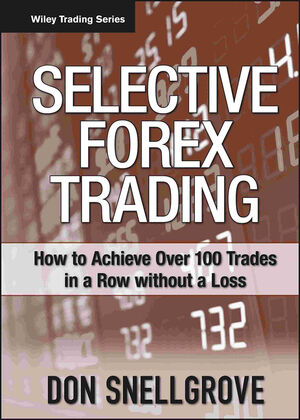 Selective Forex Trading: How to Achieve Over 100 Trades in a Row Without a Loss
ISBN: 978-0-470-22917-0 March 2008 160 Pages
Description
Selective Forex Trading skillfully outlines author Don Snellgrove's S90/Crossover: an independently verified technical indicator that has provided traders with the ability to achieve over 100 consecutive Forex trades without a single loss. Whether you're a seasoned professional or just getting started, this approach—which is based on historical resistance and support points within a trading range—can assist you in entering and exiting positions for the greatest profits possible.
Table of contents
Introduction. Read This First! Are You Ready for Something Different in the World of Trading?
Chapter 1. Advice and Thoughts for Neophyte, Intermediate, and Advanced Traders.
Chapter 2. Modernist vs. Traditionalist Approaches to Trading.
Chapter 3. What Is an S/90Crossover and How Was It Discovered?
Chapter 4. Developing the Profit Targets or Entry Points of a Trading Range for the S90/Crossover.
Chapter 5. S90/Crossover with Holes, Gaps, and Fibonacci Levels.
Chapter 6. Extreme Levels of a Trading Range: What are S90/C Extreme levels within the Forex?
Chapter 7. Merging Basics with S90/Crossovers and ELs in the Market.
Chapter 8. S90/Crossovers, Trend Bounces, and "Holes" in the Market.
Chapter 9. Proof: Live Forex Trading Examples and Interviews with Traders.
Chapter 10. More about Extreme Levels in the Market.
Chapter 11. When to Bail out of the Trade and When to Stay in for Additional Profits.
Appendix A.
Appendix B. Peripheral Trading in the Forex Market.
Daily Trading Tips.
Trading Tips and Thoughts.
Know the "WWW" of a Trade.
String Trading.
Glossary.