Self-Confidence: The Remarkable Truth of Why a Small Change Can Make a Big Difference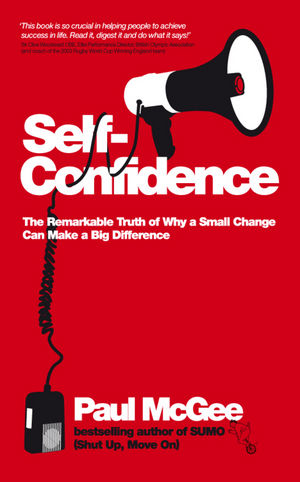 Self-Confidence: The Remarkable Truth of Why a Small Change Can Make a Big Difference
ISBN: 978-0-857-08025-7
Feb 2010, Capstone
248 pages
Description
A bestselling motivational author on life's X factor: confidence.

Have you ever wondered how different your life would be if you increased your confidence by just 10%? Paul McGee has.

And in his latest book, he explains what confidence is, where it comes from, why it's important, and how to develop it in yourself and others. Not only does the book deal with confidence in business, romance, social situations, and all areas of life, it explodes common myths, including why 'over-confidence' and 'under-confidence' are both harmful. Loaded with practical tips on bouncing back from a setback and feeling confident in challenging situations, this inspiring, upbeat book will help fill you with life's X factor.
Full of practical tips on feeling confident during job interviews, presentations, networking, and social gatherings
Written by Paul McGee, bestselling author of S.U.M.O. (Shut Up, Move On) and S.U.M.O. Your Relationships
With this indispensable guide, you'll not only learn how to feel confident, but turn confidence into meaningful life-changing action.
About the Author.
Introduction.
SECTION ONE: The Stuff You Need to Know.
1 Why Self-Confidence Is the X-Factor for Life.
2 Taking the "Con" Out of Confidence.
3 Who Crushed Your Confidence?
Your Upbringing.
4 Who Crushed Your Confidence?
Other Influences.
SECTION TWO: The Stuff That Will Really Help.
5 You'll Get by wit a Little Help from Your Friends.
6 How to Be Your Own Best Mate.
7 How to Shine When Your Necks' on the Line.
8 What to Do When the Ship Hits the Flan.
9 Have You Got the Confidence to Go M.A.D.?
More Stuff That Will Help.
Time for Some Gratitude.
Bring Paul McGee to Your Organisation.
Index.