Self-Management: Using Behavioral and Cognitive Principles to Manage Your Life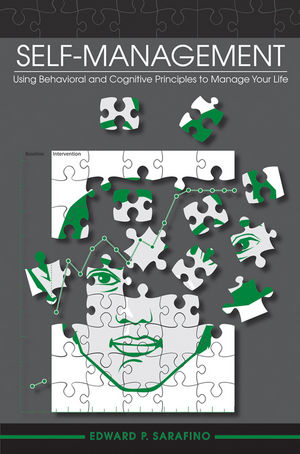 Self-Management: Using Behavioral and Cognitive Principles to Manage Your Life
ISBN: 978-0-470-94808-8 October 2010 272 Pages
Download Product Flyer
Download Product Flyer
Download Product Flyer is to download PDF in new tab. This is a dummy description. Download Product Flyer is to download PDF in new tab. This is a dummy description. Download Product Flyer is to download PDF in new tab. This is a dummy description. Download Product Flyer is to download PDF in new tab. This is a dummy description.
Description
Self-Management, First Edition
gives instructors flexibility in teaching self management skills & behavior changes.  With this book, students can discuss the design of hypothetical self-management projects in class or design and carry out an actual project to change their own behaviors.  More importantly, it will enable students to teach these skills to others, particularly clients in their future careers. 
A main feature of this text is the inclusion of application exercises.  These exercises can serve two functions.  First, they enable students to draw together their answers and solutions in the work sheets provided to form the basis for a program design.  Second, the exercises get the students actively involved in the chapter material, promoting a more detailed and full understanding of the concepts and techniques. 
Table of contents
PART I The Self-Management Approach—Basic Issues
Chapter 1 WHAT IS SELF-MANAGEMENT?
How We Manage Our Behavior, or Don't
Benefits of Self-Management
Choosing and Achieving Goals
Enhancing Adjustment
What Do You Want for Your Life?
Life Goals and Immediate Goals
Beliefs about Attaining Goals
Acquiring and Changing Behavior Through Learning
Respondent Conditioning
Operant Conditioning
Modeling
Cognitive Processes in Learning
Behavior—What It Is and What It Isn't
Broad Traits and Outcomes Are Not Behaviors
Behavioral Deficits and Excesses
How Self-Management Methods Developed
Beginnings of Behavior Modification
Growth of Behavior Modification
Study and Review
Application Exercise
Chapter 2 EFFECTIVE APPLICATIONS OF SELF-MANAGEMENT
How We Know Self-Management Works
Target Behaviors and Behavioral Goals
Did a Program to Change Behavior Work?
Using Data in Managing Your Behavior
Why Use Data?
Accuracy of the Data
Graphing Your Data
Making a Graph
Using Graphs
Examples of Effective Behavior Change Programs
Behavior Modification Programs
Self-Management Programs
Study and Review
Application Exercise 
Chapter 3 SPECIFYING AND ASSESSING WHAT YOU WANT TO CHANGE
Specifying Your Target Behaviors
Defining Operant Behaviors
Defining Respondent Behaviors
Alternative Behaviors and Competing Responses
Assessing Your Behavior
What Types of Data Can You Use?
How to Assess Your Behavior
Timing Your Assessments and Making Them Accurate
Practical Issues in Keeping Records
Setting Up a Recording System
Problems in Keeping Records
What about Baseline Records?
What Functions Does Your Behavior Serve?
Assessing the Functions of Behavior
Recording Data for a Functional Assessment
Going a Step Beyond: The Functional Analysis
Tips on Specifying and Assessing Your Behavior
Study and Review
Application Exercise
PART II Techniques for Changing Operant Behavior
Chapter 4 IDENTIFYING, DEVELOPING, AND MANAGING OPERANT ANTECEDENTS
How Antecedents Affect Our Behavior
How We Learn Antecedents
Learning a Discrimination
Developing Stimulus Control
Identifying Antecedents
Antecedents for Behavioral Excesses
Antecedents for Behavioral Deficits
Developing or Applying New Antecedents
Prompting, Fading, and Modeling
Environmental Changes
Cognitive Strategies
Managing Existing Antecedents
Avoiding and Narrowing Techniques
Cognitive Approaches
Altering Antecedent Chains
Tips on Managing Antecedents
Study and Review
Application Exercise
Chapter 5 CONSEQUENCES TO INCREASE OR DECREASE OPERANT BEHAVIOR
How Consequences Affect Our Behavior
What Is Reinforcement?
What Are Extinction and Punishment?
Positive and Negative Reinforcement
Types of Positive Reinforcers
Negative Reinforcement in Escape and Avoidance
Identifying and Selecting Reinforcers
Direct Assessment Methods
Indirect Assessment Methods
How to Administer Reinforcement
Who Will Administer Reinforcement?
Shaping and Chaining
Timing and Scheduling Reinforcement
Extinction and Punishment to Decrease a Behavior
Identifying and Controlling Reinforcement for Extinction
The Process of and Factors in Extinction
Types of Punishment
Self-Administration of Punishment
Other Strategies for Decreasing a Behavior
Tips on Managing Consequences
Tips for Using Reinforcement
Tips for Using Extinction and Punishment
Study and Review
Application Exercise
 PART III Behavioral and Cognitive Methods to Change Emotional Behaviors and Beliefs
Chapter 6 BEHAVIORAL METHODS FOR CHANGING RESPONDENT BEHAVIOR: FEELINGS AND THOUGHTS
Respondent Conditioning in Real Life
The Content and Process of Respondent Conditioning
Conditioned Emotional Responses
Other Respondent Behaviors
Assessing Our Feelings and Thoughts
Analyzing the Functions of Our Feelings and Thoughts
Antecedents
Behavior
Consequences
Behavioral Methods to Reduce Unwanted Feelings and Thoughts
Underlying Principles: Extinction and Counterconditioning
The Systematic Desensitization Technique
Tips on Using Behavioral Methods to Reduce Respondent Behaviors
Study and Review
Application Exercise
Chapter 7 AFFECTIVE AND COGNITIVE METHODS FOR CHANGING EMOTIONAL BEHAVIOR AND BELIEFS
Relaxation Techniques
Progressive Muscle Relaxation
Meditation
Rapid Relaxation Induction
Covert Conditioning
Covert Sensitization
Covert Positive Reinforcement
Cognitive–Behavioral Coping Techniques
Self Statements
Thought Stopping and Distraction
Cognitive Methods: Restructuring and Problem Solving
Cognitive Restructuring Skills
Problem Solving Skills
Tips on Using Affective and Cognitive Techniques
Study and Review
Application Exercise 
PART IV Carrying Out Self-Management Programs
Chapter 8 PUTTING TECHNIQUES TOGETHER FOR AN EFFECTIVE SELF-MANAGEMENT PLAN
Combining Techniques for a Self-Management Program
Identifying Possible Techniques to Use
Examples of Multidimensional Programs
What Will Make the Best Program for You?
What Makes a Self-Management Plan Good?
Deciding Which Techniques to Use
Motivational Factors to Consider
People's Readiness to Change
Ways to Enhance Motivation to Change
Assembling Materials for Your Program
Developing a Behavioral Contract
Preparing Other Program Materials
Tips on Designing Your Self-Management Plan
Study and Review
Application Exercise
Chapter 9 TAKING ACTION: IMPLEMENTING YOUR PLAN
Getting Started
Beginning with Baseline
Recording and Graphing Your Data
Using Arithmetic Calculations
Is the Program Working?
How to Assess a Program's Progress
Problems in Graphic Analyses
Troubleshooting and Improving a Program
Why a Program Isn't Working
How to Improve a Program
Tips on Using Data and Improving Your Program
Study and Review
Application Exercise
Chapter 10 THE FUTURE: MAINTAINING YOUR BEHAVIOR CHANGES
Will the Behavior Changes Last?
Relapses in Behavior
Why Relapses Occur
How to Maintain the Changed Behavior
Thinning Reinforcement
Promoting Natural Reinforcement
Promoting Generalization of the Behavior
Cognitive–Behavioral Approaches
Booster Programs and Buddy Systems
How Successful Self-Management Leads to a Happier Life
Tips on Maintaining Your Changed Behavior
Study and Review
Application Exercise
New To This Edition
Provides students with detailed reasons, procedures, and data forms for doing a functional assessment of a behavior they would like to change.