Self and Subjectivity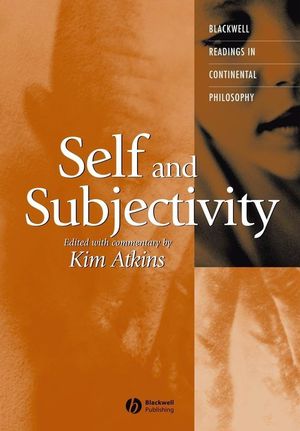 Self and Subjectivity
ISBN: 978-0-470-77484-7 February 2008 Wiley-Blackwell 336 Pages
Description
Self and Subjectivity is a collection of seminal essays with commentary that traces the development of conceptions of 'self' and 'subjectivity' in European and Anglo-American philosophical traditions, including feminist scholarship, from Descartes to the present.
Acknowledgements.
Introduction..
Part I: Early Modern Philosophy.
1. Commentary on Descartes (Rene Descartes: "Meditation II").
2. Commentary on Locke (John Locke: "Of Identity and Diversity".
3. Commentary on Hume.
David Hume: "Of Personal Identity"..
Part II: Later Modern Philosophy.
4. Commentary on Kant.
Immanuel Kant: Critique of Pure Reason, "Paralogisms of Pure Reasons (A)" (first, second, and third paralogisms).
5. Commentary on Hegel.
G.W.F.Hegel: Phenomenology of Spirit, "Self-consciousness: Lordship and Bondage".
6. Commentary on Nietzsche.
Friedrich Nietzsche: "The Genealogy of Morals"..
Part III: Phenomenology and Existentialism.
7. Commentary on Sartre.
Jean-Paul Sartre: "The Look".
8. Commentary on Merleau-Ponty.
Maurice Merleau-Ponty: "The Spatiality of One's Own Body and Motility".
9. Commentary on Heidegger.
Martin Heidegger: "Exposition of the Task of a Preparatory Analysis of Dasein"..
Part IV: Analytic Philosophy.
10. Commentary on Strawson.
P. F. Strawson: "Persons".
11. Commentary on Frankfurt.
Harry Frankfurt: "Freedom of the Will and the Concept of a Person".
12. Commentary on Shoemaker.
Sydney Shoemaker: "Personal Identity: A Materialists's Account".
13. Commentary on Williams (Bernard Williams: "Bodily Continuity and Personal Identity".
14. Commentary of Parfit.
Derek Parfit: Reasons and Persons, "What We Believe Ourselves To Be"..
Part V: Post-structuralism.
15. Commentary on Freud.
Sigmund Freud: "The Ego and the Id".
16. Commentary on Foucault.
Michel Foucault: "About the Beginnings of ten Hermeneutics of the Self: two Lectures at Dartmouth".
17. Commentary on Ricoeur.
Paul Ricoeur: "Personal Identity and Narrative Identity"..
Part VI: Feminist Philosophy.
18. Commentary on de Beauvoir.
Simone de Beauvooir: "Introduction" to The Second Sex.
19. Commentary on Butler.
Judith Butler: "Gender Trouble: Feminism and the Subversion of Identity".
20. Commentary on Irigaray.
Luce Irgaray: "Any Theory of the 'Subject' Has Always Been Appropriated by the 'Masculine'".
21. Commentary on Mackenzie.
Catriona Mackenzie: "Imaging Oneself Otherwise".
Bibliography.
Index.
"...promises to establish [itself] as a key reference text, an invaluable aid for teachers as much as students in the fields of philosophy, social and political sciences, literary and cultural studies."
The Year's Work in Critical and Cultural Theory" Vol.14, 2006
"Self and Subjectivity is a superb reader. Kim Atkins's gem-like introductions to each reading, together with the generosity and diversity of her selections, will make this an invaluable text for teachers across a range of disciplines." J. M. Bernstein, New School for Social Research

"Atkins's imaginative selection of texts from both analytic and continental thinkers –along with cogent samples of feminist, psychoanalytic, and postmodern theories of selfhood – places this work at the cutting edge of contemporary scholarship." Richard Kearney, Boston College

"The extracts are wide-ranging and well-chosen; and Atkins's commentaries on her selections are informative, clear, and concise. This will be an extremely useful collection for both students and teachers of philosophy." Christopher Cordner, University of Melbourne


Features excerpts from seminal texts on self and subjectivity including material from Descartes, Hume, Nietzsche, Freud, Sartre, Foucault, Judith Butler, Bernard Williams, Derek Parfit and many others


Covers the rise of the philosophy of the subject, its crisis in postmodernity and the re-articulation of selfhood, agency and personal identity


Situates discussions of selfhood and the subject in broad historical, metaphysical, ethical, and epistemological contexts


Includes detailed commentary by the editor on the background and interrelations of each of the readings